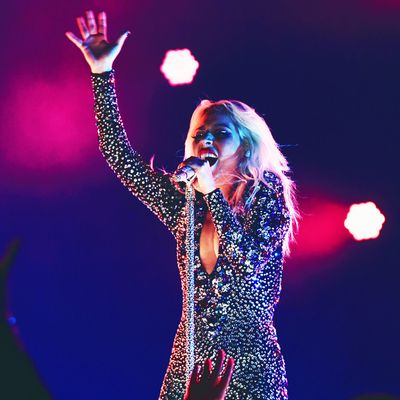 Photo: Emma McIntyre/Getty Images for The Recording A
Lady Gaga, a.k.a. Stefani Joanne Angelina Germanotta, a.k.a. Ally Maine of A Star Is Born fame, fell off the stage during a performance in Vegas this week. It happened during one of her Enigma residency shows, when she invited a fan named Jack to come up onstage. In the video, extremely enthusiastic Jack begins to jump with a bewigged Gaga in his arms. He promptly loses his balance and tumbles into the crowd below — Gaga first.
Luckily, the drop was short and neither party was hurt. We're happy Lady Gaga and Jack are okay, but you're probably thinking what I'm thinking. That Jackson Maine, even in the clutches of inebriety, would never. And you would be right.
But Gaga, for her part, is no stranger to performance-related injury; in 2013 she fractured her hip and had to cancel a tour. And I can only imagine the extreme wear and tear performing has on one's body; Gaga actually shared her postshow routine on Instagram this morning:
Anyway, after the fall, Gaga went on to console Jack, who was understandably devastated, with a hug and a Titantic metaphor. "Could you promise me something? Could you forgive yourself right now for what just happened?" she asked him.
"We love each other so much we fell off the damn stage. We fell into each other's arms. We're like Jack and Rose from Titanic," she added before launching into "Million Reasons" with a desolate Jack still onstage.