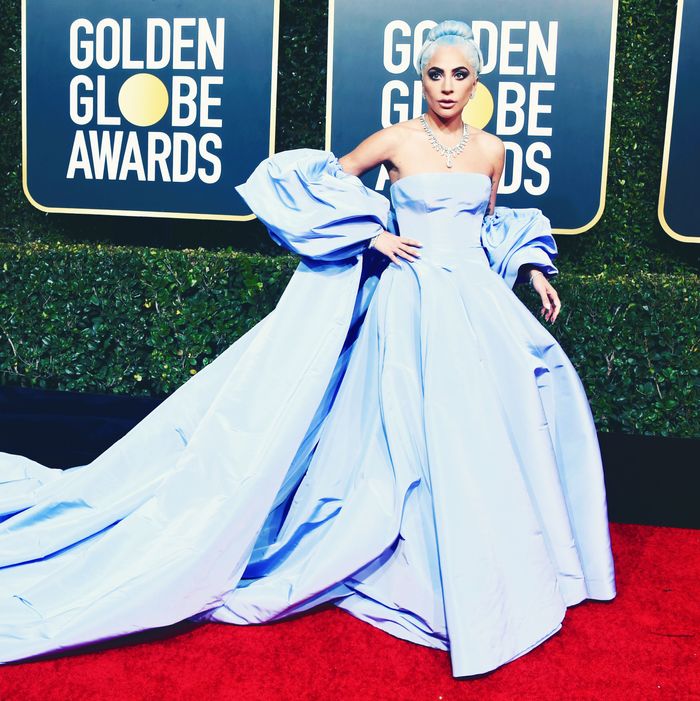 Photo: Frazer Harrison/Getty Images
We've all forgotten things in hotel rooms before. (RIP, my favorite bucket hat.) But it seems Lady Gaga may have left behind a custom Valentino Couture dress at the Beverly Hilton Hotel in Los Angeles, the one she wore to the Golden Globes back in January, when she was nominated for A Star Is Born. How did this happen? Why would you do that, do that, do that?
According to a recent listing on the Nate D. Sanders Auctions website, the dress was discovered by one of the hotel's housekeepers, who presumably came in to clean Gaga's room after she left. The housekeeper then allegedly turned the dress in to lost and found on September 3, which is where it remained until the dress was gifted to her months later.
Why neither Gaga nor Valentino tried to claim the dress is unclear. It's also unclear whether the dress was a loan or a gift or if she bought it. And the Beverly Hilton hasn't said anything about trying to contact Gaga and her team. Someone reportedly called the Beverly Hills Police Department on Friday about a "possible theft investigation" regarding the dress, but the police released a statement saying they had determined that "no crime had taken place" and that the "matter is being resolved between the concerned parties." When the Cut reached out, Valentino declined to comment. A representative for the Beverly Hilton told "Page Six" that the dress was not stolen but confirmed that it was never meant to be sold.
The auction listing comes with a handwritten "letter of authenticity" from the housekeeper dated October 17, which says that she's worked during the Golden Globes ever year for the past 24 years. (The event takes place at the Beverly Hilton.) She claims Lady Gaga left the dress to her specifically, and that after the time it needed to be "legally held" by lost and found had passed, it was given to her as a "gift from [Gaga]." The listing also includes a lost-and-found receipt documenting the exchange, as well as the original garment bag. Apparently it's in "near fine condition," with only "light soiling" to the train, "just as Lady Gaga wore it that night."
Who knows what happened here. Maybe Gaga was feeling generous. Maybe she needed room in her closet for her Met Gala dress. Maybe she felt it was time to let the old ways die. All we know is that there are only a few hours left in the auction, and the current high bid is $17,152. A steal!