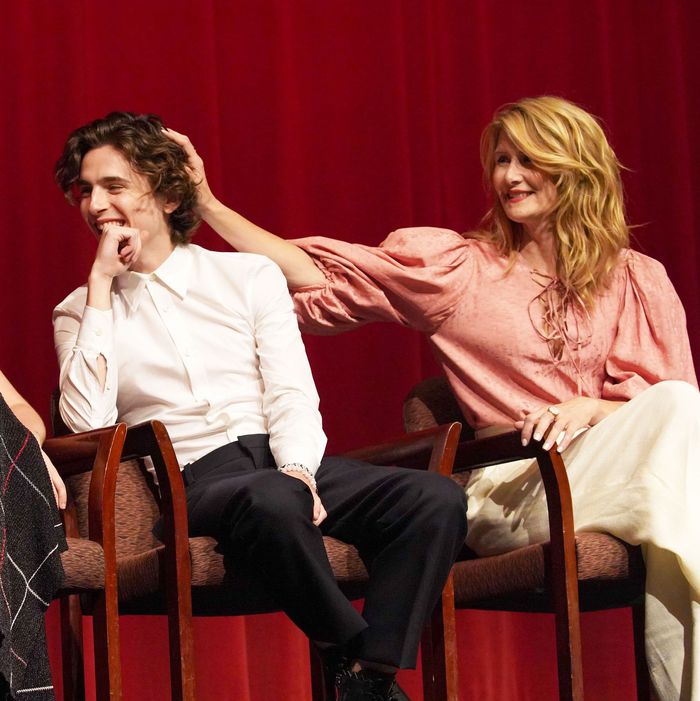 Photo: Eric Charbonneau/Shutterstock
You know what, bless the Boy King bowl cut because now beautiful Timothée Chalamet's beautiful hair is back longer, curlier, and bouncier than ever before.
Seriously, have you seen it lately? It's truly thriving and living its very best life during the actor's many public appearances of late. Those curls are getting their eight hours of sleep, meditating, drastically cutting down on daily screen time, and drinking a liter of room-temperature water out of a photogenic glass vessel every single morning. Behold.
The only thing better than having six more close-up photos to swipe through on a Timmy fan Instagram account would be the ability to place one's real-life hand upon this soft halo of heaven without it being weird. And during a press junket for Greta Gerwig's upcoming Little Women adaptation, Laura Dern, hero to women worldwide, did just that.
Following a genteel shoulder touch, she reached her right hand just a smidge higher and nestled it in Ti-mo-tay's curls, the intended destination all along.
Let's take a closer look, shall we:
A masterpiece. Screenshot it, save it, set it as your phone background, glue it to your vision board. May all of our right hands be the Laura Dern's Right Hands we wish to see in the world. Follow your dreams and reach for the stars. Literally if you'd like, just try not to get arrested or anything.