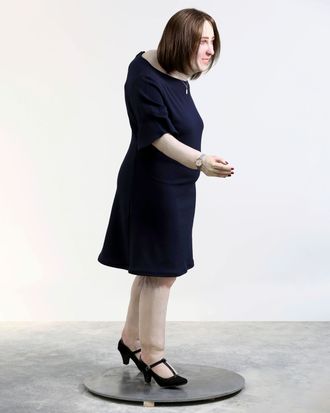 Office workers scrolling through Twitter on Friday grew suddenly alarmed when an article designed to scare them into buying ergonomic furniture began making the rounds: "Life-sized model shows what office workers might look like in 20 years," it said, accompanied by a photo of a hunched-over fake woman named Emma.
"Emma" was the result of a study commissioned by British office equipment company Fellowes, and she has several attributes that are meant to emulate the result of bad posture, furniture, and habits. These include, per a video in which Emma is introduced rather meanly by her male creator, "a permanently bent back caused by sitting for hours in a bad position, varicose veins from poor blood flow, a rotund stomach caused by a sedentary position, dry and red eyes from long hours staring at a computer screen and other health conditions."
Okay, rude. Emma is clearly just doing her best. Just take one look at this strong, confident woman with her hand stretched out in a friendly hello, a warm smile spreading across her wan face. Look at her shiny brown hair, her neatly micro-bladed eyebrows and eyelash extensions. Marvel at the fact that she managed to find an office dress that looks casual but presentable enough for a meeting with her fake co-workers, who will no doubt admire her cute shoes. Great red nail polish, Emma, it goes with that red patch of eczema on your inner elbow. And the redness around your eyes really brings out their color. We love watching TV all night, too. Can you tell us where you got your lipstick?
Leave Emma alone, Furniture Men! She's fine! And we're going out after work without you.