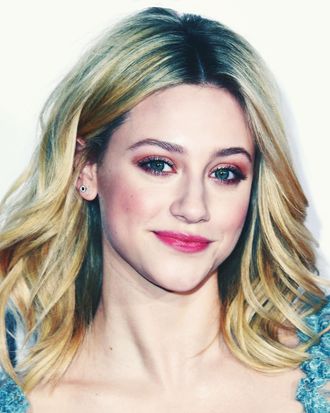 Lili Reinhart.
Photo: Steve Granitz/WireImage/Getty Images
Lili Reinhart, Riverdale and Hustlers actress, Instagram poet, and soon-to-be published book poet, is CoverGirl's newest easy, breezy, beautiful CoverGirl.
"We're excited for Lili to join our CoverGirl family as she embodies a woman who is unapologetically herself — she is authentic, talented, and truly lives by what she believes in," CoverGirl's VP of marketing Erika Woods said in a release, perhaps referring to Reinhart's trailblazing role in kicking off the acne-positivity movement on Instagram one hashtag at a time, or the fact that she did her own makeup in the announcement photo here.
"I have always been a huge believer in embracing one's uniqueness and finding ways to feel good in your own skin," Reinhart added in the statement, and her 20.6 million Instagram followers, who are privy to her filter-free pimple-cream selfies and penchant for pajamas and messy buns, despite being someone who does apocalypse shoots for the cover of magazines and attends things like the Met Gala, would probably agree.
According to the release, Reinhart will be the face of a yet-to-be-announced CoverGirl collection launching next spring, which is when her first book of poems is set to drop, officially making spring 2020 the season of Lili for now; please mark your calendars accordingly.