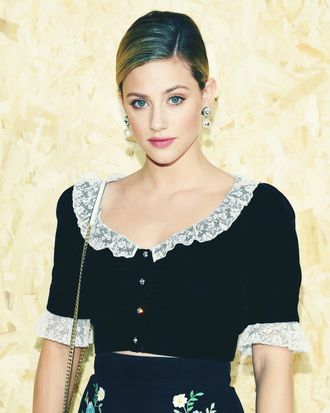 Lili Reinhart
Photo: Pascal Le Segretain/Getty Images
Fresh off the success of Hustlers, Lili Reinhart is embarking on a new venture. She's publishing a book of poems, Swimming Lessons, that will be out next spring. Like most good poetry, it will explore themes from her own life: young love, anxiety, depression, fame, and heartbreak. A press release described the poems as "bite-sized yet profound" and said they would be accompanied by illustrations. It sounds consistent with Reinhart's confessional, easily shareable writing style.
Oh yes, true fans already know that Reinhart loves and writes poetry. For her boyfriend Cole Sprouse's birthday, she shared a "sappy nighttime birthday poem" (her words) on Instagram. It read, "I tried to find a poem / that I could send to you. / Because my words were failing me. / But I searched and found nothing that did you justice. / All of these love poems can't get it right. / No one else's words could ever fit. / They haven't known the fortune it is to love you." When her Riverdale co-star Luke Perry died, Reinhart wrote a poem for the actor that she posted on her Instagram stories. Her public Tumblr page is basically an anthology of her work so far.
Swimming Lessons will be her first book, published by St. Martin's Press, and has already been sold in 12 foreign territories, in addition to the U.S. It's on preorder now. Mark your calendars for May 5, 2020.