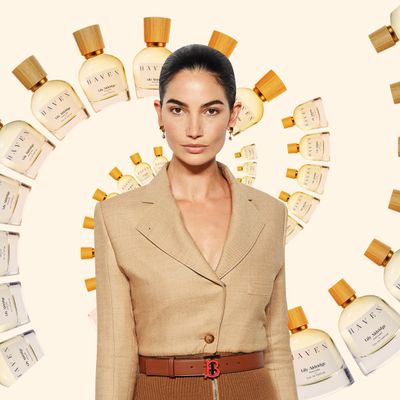 Photo: Getty Images, Lily Aldridge Parfums
Scientific studies confirm that, of all the senses, smell offers the best recall. In Scent Memories, the Cut asks people about the scents they associate with different times in their lives.
Next up is model Lily Aldridge, who recently launched her own fragrance line, Lily Aldridge Parfums. Haven, the debut scent, is a floral blend of rose, peony, freesia, litchi, and mandarin, inspired by Aldridge's home and garden in Nashville. In addition to telling the story of her favorite places through scent, Aldridge created a mininal-waste line using sustainable packaging (the wood caps are sourced from sustainable forests). The Cut caught up with the model during New York Fashion Week to talk bouquets, sunshine, and Disneyland.
My first scent memory is: Going into my grandma's garden where she had these beautiful lavender bushes. My sister and I went in one time and picked lavender and put them in little sachets that you keep in your drawers to make them smell good, and I still have the one from my grandma's garden. Also, going into my mom's bathroom and spraying her perfumes everywhere. She actually gave me a rosewater spray when I was little from Whole Foods to be my perfume, because I was spraying her expensive perfumes all over the place. I still love that smell of rosewater in a pink bottle.
Happiness smells like: My children! I can smell them, and it just brings me joy. I have a 7-month-old, and there is a true thing that babies just smell so delicious. It's true! And during the process of creating my fragrance, when I met the people at the actual labs that create the scents, they were like, You can bottle the smell of anything. I was like, Can you bottle the smell of my children? So I can have it forever?!
Love smells like: My … children. [Laughs.] Love to me also smells like sunshine and being outdoors, the smell of nature. When I'm outside, I feel the most grateful and appreciative of everything I have. Being outside in nature, I suddenly feel all that love, and joy, and gratitude.
Regret smells like: Shit. [Laughs.] Something I don't ever want to smell, because I try not to live with regret.
Success smells like: Champagne. The first thing I did the day my fragrance launched, I bought a bottle of Champagne and my mom and I did cheers at sunset.
A pleasant surprise smells like: Disneyland. Like you just got surprised with a trip to Disneyland and you're just so full of joy and wonder. It's my favorite place. And it smells like churros everywhere because they pump the smell out.
The worst smell is: I hate when a flower starts dying and it starts smelling bad and you know that the bouquet is gone. The smell of knowing that a beautiful thing is gone.
My home smells like: Flowers, candles. My mom is so sweet, she always goes to the flower market for me once a week and comes home with flower deliveries. She loves making bouquets, and so she puts bouquets all over my house. It's my favorite little thing that we collaborate and do together, because I love a house full of flowers.
Vacation smells like: A piña colada and sunshine.
Sunday morning smells like: Bacon, pancakes, maple syrup, and a hot cup of English Breakfast tea.
Monday morning smells like: Sadness.
If I could have one smell on my hands forever, it would be: Haven by Lily Aldridge!
What do you smell like? Right now, I smell like Haven because I literally just sprayed it all over myself, all over my glam team, all over everyone. Sorry! You're getting sprayed.
If you buy something through our links, New York may earn an affiliate commission.