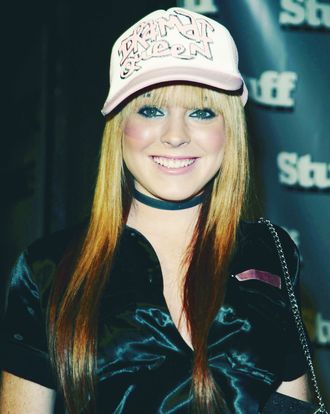 Photo: Matt Baron/BEI/Shutterstock
Lindsay Lohan dropped the cover art for a new album on Instagram this morning, and I for one, am thrilled. It follows the release of a snippet of its first single, "Xanax," alongside a now-deleted, very rough-cut music video. The song is about social anxiety, and as Lohan wrote on Instagram, was inspired by her time in Los Angeles, which, same.
We don't know when the entire single or upcoming album will be released, but the song does mark Lohan's musical comeback — a comeback that I welcome and support. Her music, like early Britney, Fergie, and Kesha, captured the sweaty, airy, innuendo-heavy earworms that made up the 2000s era of pop; it was middle-school dance music unmarked by politics or broken hearts — the opposite of Taylor Swift. I miss that kind of pop and that Lindsay Lohan, pop queen.
Lohan has been in and out of the spotlight for 20 years, and much of her troubling times have been pretty public. Most recently, her short-lived reality show was canceled by MTV, and she was removed as a judge on Australia's Masked Singer, reportedly due to a bad feud, unreasonable demands, and an inability to stick to time schedules. A series of "last chance" jobs were granted to her — film and TV appearances, an SNL hosting gig — in the early 2000s, but 2011 marked a year of legal trouble that she never fully recovered from.
Through all of this, its easy to forget that Lindsay Lohan's music was really good. As a cuspy member of Gen-Z, I favor the (probably) Disney-mandated music she was known for back when she was the network's teen movie queen. See "Ultimate," the triumphant closing number of Freaky Friday (2003):
And I obviously can't forget her duet with Tyra Banks, "Be a Star," from the 2000 cult classic Life Size, as well as "That Girl (Drama Queen)" which came out four years later. It's the big number in Confessions of Teenage Drama Queen and has been stuck in my head for 20 years:
But those with more discerning adult taste might recall Lohan's music career peaking with a series of pop-rock hits released in the mid-aughts, precipitating the heyday of her party years. Her first single "Rumors" came out in 2004 and its accompanying album, Speak, debuted at No. 4 on the Billboard 200. The music video also got a VMA nomination that year:
Then there was "Bossy," which was one of her best singles and her last since she teased "Xanax" this August. It came out in 2008 and I crushed it at eighth-grade spring formal:
"Bossy," though, was the last we really heard of Lohan's original music, which is a shame. So maybe I am just nostalgic, but if this album sounds anything like Lohan's work from the early 2000s, I'm in.