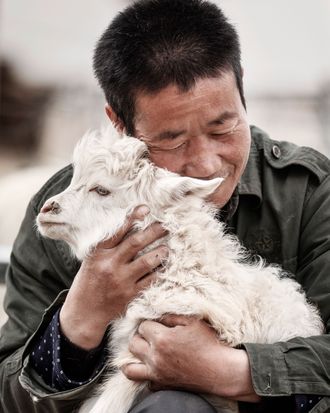 Photo: Giulio Di Sturco/Loro Piana
If you're ever lost in a foreign country and looking for the best place to eat, sleep, or drink, try finding the nearest person wearing a Loro Piana cashmere sweater and asking them for a recommendation.
The Italian luxury brand's customers are "curious researchers of quality," the brand's CEO, Fabio d'Angelantonio, told me earlier this month from the 87th floor of the five-star Park Hyatt Hotel in Shanghai, China. They know a good wine from an okay wine, for example. They know the proper-size glass to drink it out of. And when they put on a Loro Piana cashmere sweater, which costs anywhere from $700 to $3,000, they know they're wearing the softest of the soft.
"It's not about status; they don't need a logo," d'Angelantonio claims. Rather, they're in it for the chase, or "the gratification that their search has brought them to find a treasure."
It is for this reason that Loro Piana commissioned Oscar-winning March of the Penguins director Luc Jacquet to work on a three-part short-film series, which can give customers a more complete picture of where their famous cashmere comes from. The first installment, Cashmere: The Origin of a Secret, premieres tonight in New York City, following an event in Shanghai earlier this month. The rest is set to be filmed in Peru, Tasmania, and New Zealand, where Loro Piana's other fabrics are sourced.
Even the most-curious customer might be surprised to learn that Loro Piana cashmere originates in the Alashan region of Inner Mongolia — one of the harshest environments on the planet. This is where herds of Capra hircus goats are found. The true stars of Jacquet's film, their soft, insulating under-fleece is what keeps them, and eventually Loro Piana customers, warm. The titular "secret" is the generational knowledge of nomadic herders, who know precisely how and when to collect the goats' precious cashmere fibers.
"Our belief is that nature is where beauty and excellence originates, so we wanted to go back to the beginning of this value chain to celebrate the herders, the growers, and the farmers," said d'Angelantonio of the project. When asked if the current climate crisis had anything to do with the timing, he insisted that sustainability is a part of the brand's DNA, but of course, there's no time like the present to "show the world" what is now called the Loro Piana Method. Especially as an increase in demand for lower-quality cashmere has lead to an increase in goats and stress on the land.
Jacquet, who is a trained ecologist, and not someone who spends a lot of time luxury shopping, believes that working with big brands and companies like Loro Piana is actually one way to effect change. "For me, it was [an example of how] you can be successful in the economical model and you can be sustainable," he said. He also appreciated how little the brand needs to say that word.
The film itself highlights three key aspects of the cashmere-harvesting process, without any narration whatsoever — only stunning images of goats traipsing across the Inner Mongolian landscape. The first is the intimate relationship between the herders and their animals. The second, their relationship to weather and changing seasons. And finally, the know-how, or the "secret," to maintaining a harmony with all of the above. In just 20 minutes, Jacquet illustrates how they're all inter-connected.
"You cannot draw a boundary between man and animals," said Jacquet. "Because they are living in such remote places, they learn to survive together."
The connections Jacquet made while shooting were so intense that when he packed up to leave, the herders gave him a camel as a parting gift. "What on earth am I going to do with this camel?" Jacquet said with a laugh. Perhaps a goat would have been the more practical gift? "It's a long trip from Mongolia to France," he joked. But alas, he returned home alone. "They are still taking care of the camel," he said. It couldn't be in better hands.
Cashmere: The Origin of a Secret will be open for a public viewing from Thursday, November 14 through Saturday, November 16 at the 14th Street Passage on the Highline in New York City. The outdoor space will be lined with wooden benches for the public to enjoy the film, which will play on loop between 4 p.m. and 10 p.m.