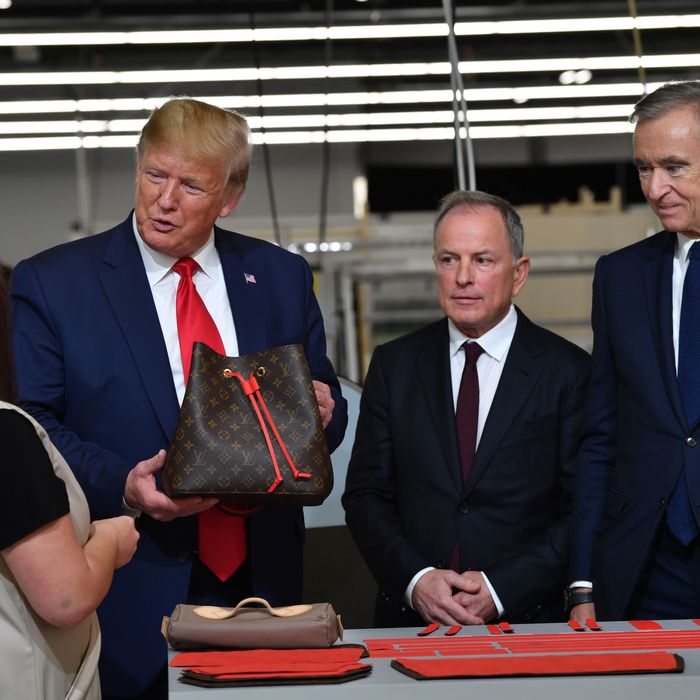 Photo: NICHOLAS KAMM/AFP via Getty Images
A few days after Donald Trump joined LVMH CEO Bernard Arnault to cut the ribbon on Louis Vuitton's new Texas-based workshop, Nicolas Ghesquière, the brand's artistic director of women's collections, is speaking out against the event.
Ghesquière, who has been with Louis Vuitton since 2013, took to his Instagram on Sunday to distance himself from the whole thing. "Standing against any political action. I am a fashion designer refusing this association #trumpisajoke #homophobia," he wrote, underneath the cover of Evelyn Thomas's 1984 dance hit, "High Energy" — an arguably much better tune than "Macho Man."
The post received praise from other fashion-industry heads, such as Ghesquière's colleague, Camille Miceli, who is Louis Vuitton's accessories creative director; Paco Rabanne creative director Julien Dossena; style expert Joe Zee; and stylists Elizabeth Stewart and Karla Welch. Model Teddy Quinlivan also commented, "Thank you for standing on the right side of history."
The new workshop, which is based in Keene, Texas, and dubbed Rochambeau Ranch, represents Louis Vuitton's involvement in Trump's Pledge to America's Workers initiative. "This shows two commitments: One, the commitment of LVMH to the American market, and two, the commitment of President Trump to the American worker," Arnault remarked at the ceremony, as WWD reported. "We are very honored to have the president of the United States. I'm not here to judge any types of policies," said Arnault. "I'm here to work with my brand and we are going to, over five years, have 1,000 people working here and that's what matters." The new workshop is supposed to create 1,000 jobs for Americans over the next five years.
Still, the ceremony is receiving criticism from all around, including from celebrities like Ellen Pompeo, who said, "I wonder what [Trump] has to gain from that? Maybe Ivanka's going to get a year's worth of free bags!," according to The Hollywood Reporter. Debra Messing also weighed in, tweeting, "Just so you know, Trump is at a Louis Vuitton opening while 10s of 1000s of Kurds — who were forced to flee their homes — try to find a safe place to survive as refugees."
"Creating jobs is not an excuse to ignore morally repugnant behavior," Shannon Coulter, co-founder of the boycott-Trump movement, Grab Your Wallet, told Business of Fashion. "Businesses are willing to look the other way in order to work with the Trump administration, but it's a worrisome trend."