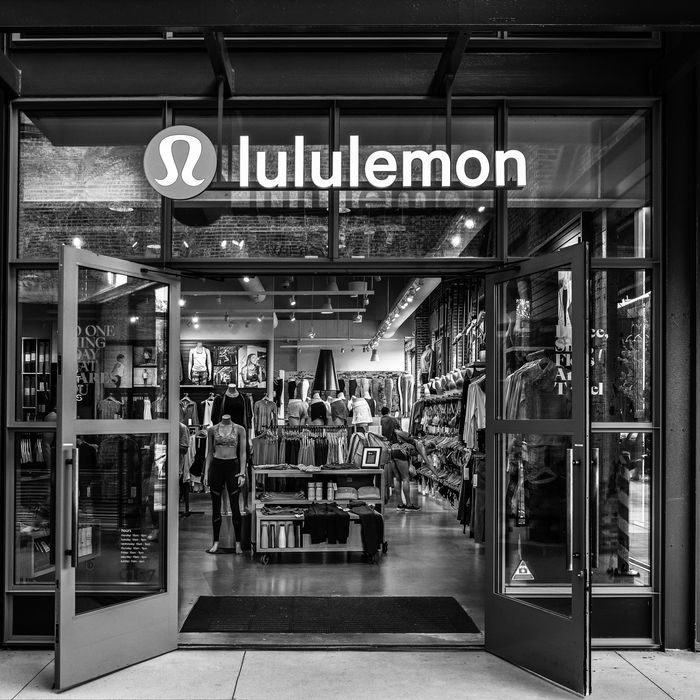 Photo: John Greim/LightRocket via Getty Images
Pricey athleisure company Lululemon is the latest fashion brand to come under fire for allegedly mistreating some of its garment workers.
The Guardian reported earlier this week that workers who make Lululemon garments at a factory in Bangladesh (the factory is operated by the Youngone Corporation, the brand's supplier) say they are paid scant wages, verbally harassed by their managers with slurs like "slut" and "whore," and face the threat of physical violence on the job.
Some young women say they are paid as little as 95,00 Bangladeshi taka a month, roughly $112 — incredibly, less than the price of some Luluemon leggings. This also falls short of the 16,000 taka a month workers unions have demanded as well as the agreed-upon minimum of a "living wage."
Workers reportedly feel pressure to stay at their posts overtime to hit quotas and labor in the factories even when they're sick. One worker told The Guardian that she was slapped for leaving work early due to illness:
"I was sick, so one day I left work at 5 p.m. but I informed the line supervisor. He told his bosses I left without telling anyone and the next day, when I went to work, the technician in charge of my line slapped me … He slapped me so hard my cheeks turned red and everyone asked me what happened. I couldn't tell them the actual story. I just told them I had allergies."
The Guardian also spoke to a factory worker who said men also bear some of the managers' violence. "They treat men badly too,' he said. "Sometimes they beat male workers too. I never got beaten myself but I have seen other people get beaten up."
In response to these reports, Lululemon announced it would open an investigation. "We will work with an independent nonprofit third-party to fully investigate the matter," a spokesperson told Reuters. "While our production at this factory is extremely limited, we will ensure workers are protected from any form of abuse and are treated fairly." The Canadian company produces and purchases its wares from several countries whose factories employ competitively cheap labor, including Bangladesh, Sri Lanka, Vietnam, and Cambodia.
A spokesperson for the UN Foundation, which recently partnered with Lululemon on a campaign to promote mental well-being of aid workers with an emphasis on "self-care training," said, "We believe all workers should be treated fairly and welcome Lululemon's investigation."
Anna Bryher, an advocacy director for the campaign Labour Behind the Label, told The Guardian that women who labor at the bottom of supply chains often suffer most from the voluminous demands of fast fashion. Bryher cited a recent report that found 80 percent of Bangladeshi garment workers who furnish goods for international companies have experienced or witnessed sexual harassment in the workplace.
In 2013, more than 1,100 garment workers in Bangladesh died in the collapse of the Rana Plaza factory that manufactured goods sold by brands including J.C. Penney, Benetton, and Joe Fresh. The tragedy brought global attention to labor abuses in the garment industry, but reports of abuses continue to trickle into the media. Last year, for instance, reports discovered gender-based violence at factories in Bangladesh, India, Cambodia, Indonesia, and Sri Lanka that supply H&M and Gap. Both companies pledged to investigate the allegations.