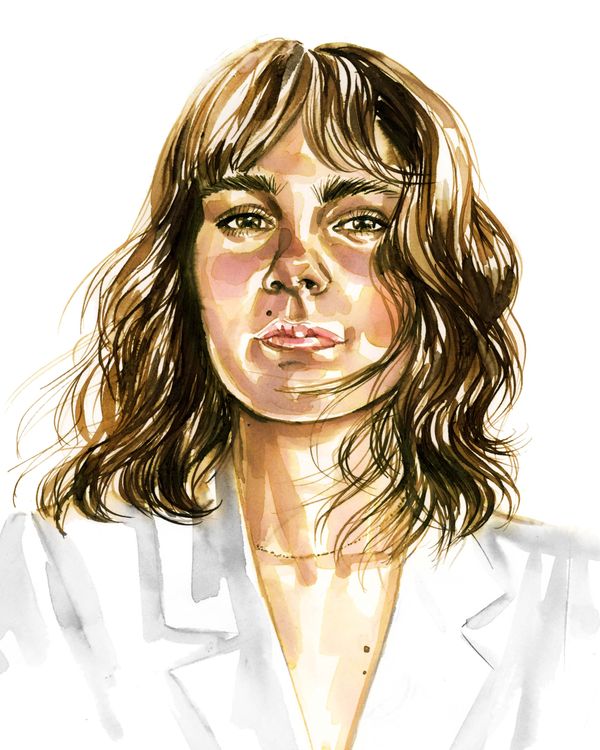 Illustration: Samantha Hahn
There's no one right approach to makeup or skin care; everyone does it a little bit differently. In You Do You, we're talking to women about what they put on their faces and bodies, and why.
Brazilian designer Mari Giudicelli creates elegant, utilitarian footwear, but you're probably familiar with her face. A muse in her own right, the Parsons grad previously modeled for designers like Maryam Nassir Zadeh, Eckhaus Latta, Sandy Liang, and Jacquemus before launching her namesake shoes, which now regularly attend New York and Paris Fashion weeks themselves. Much like her designs, Giudicelli's approach to beauty is focused on quality, simplicity, and minimalism. Below, she talked to the Cut about gua sha and the step she skips in the shower.
On her beauty philosophy: Less is more. Our skin renews itself naturally. Too much product can get in the way of this process. I highly recommend the book "Beyond Soap" to understand this concept better.
On the first five things she does every morning: I open the windows, do a five-minute meditation, affirmations, and visualization; wash my face with water only, make an espresso, and make lists.
On what she knows she needs to work on: Consistency on my Iyengar yoga practice. It's something I've been doing for over ten years but lately hasn't been as regular as it should be.
On the one thing she wants to believe about beauty: That gua sha works. I do see a difference right after I do it when I wake up with a puffed face, but I'm not entirely sure about the long-term effects.
On her worst haircut: It wasn't a haircut, but when I dyed it red. I was 16 and did it at home. The color wasn't right for me at all.
On her nighttime routine: I shower at night, and wash my hair with John Masters Organic shampoo, no conditioner, and let it dry overnight. Skin care wise, I go through phases. Until last month I was using Buly cleansing water, Biologique Recherche Lotion P50, and their VIP O2 cream, and finishing with rose hip oil or Vintners Daughter. Recently, I've been traveling, so I'm only using Dr. Dennis Gross peeling wipes, which are very practical, although sadly, they generate a lot of trash. Then, Biologique Recherche collagen serum and the VIP O2 cream.
On how she sleeps: Naked.
On her beauty splurges: Massages and facials. With facials, I like doing microdermabrasion or HydraFacial, then collagen masks and LED. And I love getting Korean body scrubs at the spa.
On whether she wears makeup for herself, or others: I believe I wear makeup for both myself and others. Some people say they wear it for fun, others for acceptance and approval. Makeup serves as another way of expressing yourself. It can really display your mood, if you're feeling playful, serious or just want to look healthy. It's a way of communicating and connecting with other human beings.
On what she'd tell her younger self: Don't touch your pimples or your eyebrows. Wear your retainers [laughs].