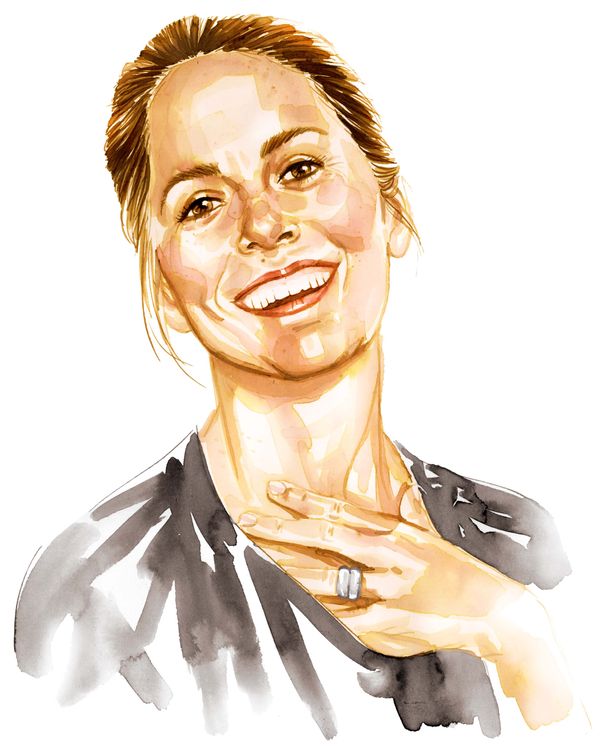 Illustration: Samantha Hahn
There's no one right approach to makeup or skincare; everyone does it a little bit differently. In "You Do You," we're talking to women about what they put on their faces and bodies and why.
It's easy to spot a Zero Maria Cornejo piece: It's always cut in a thoughtful geometric silhouette with wide, roomy sleeves and almost always cinched comfortably at the waist (usually high). If it's a dress, it falls generously below the knee. If it's a jumpsuit, you can dress it up or dress it down.
It's also pretty easy to spot the Zero woman, walking with a confident stride, often on her way to a podium in some big room somewhere to speak of a cause she's chairing. Christy Turlington usually wears Zero Maria Cornejo when a step-and-repeat is involved, and Michelle Obama, Julianne Moore, and Tracee Ellis Ross are fans.
Cornejo was born in Chile and, as a child, moved to London, where she developed her signature style before relocating to New York. She opened her Nolita space in 1998. An early proponent of local manufacturing and responsible design, she won the first CFDA Lexus Eco-Fashion Challenge in 2010, and in 2017 she was honored with the Fashion Group International Sustainability Award. This past season, she collaborated with Hyundai to create a capsule collection derived completely from upcycled materials from both brands.
Cornejo's self-care routine falls in line with her design ethos: clean, minimal, and mindful. She spoke with the Cut about her predictions for a holistic future and why she'll never give up chewing gum.
On her beauty philosophy, summed up in three words: Keep it simple. Be careful about not putting too many things on your skin, especially if it's sensitive.
On her morning routine: Take a shower, wash my face with Shiseido Face Wash, make coffee, cover my body with a rose-hip-based geranium oil I make myself, talk to my cats, and look out at my garden. When I can, I also walk across the Brooklyn Bridge. That's my meditation.
On her worst haircut: When I was 21, I cut it really short, then bleached it with peroxide. I was going for a Leslie Winer look (she was a model in the '80s with this cool, short, spiky hair), but I ended up looking like Woodstock from the "Peanuts" comic. And I literally had scabs all over my scalp from the peroxide.
On her secret workout: I chew gum. It helps with stress, but I'm sure it also exercises my facial muscles. I only do it when I'm on my own, though. I'm not a teenager.
On skin care in the future: Everything will be tailor-made. We will all have our own products made for us. I also think beauty will be more holistic. Everyone will have a better understanding that we are what we eat. Everything has a causal reaction, and what we do to our insides affects how we look on the outside.
On going gray: I'm trying to let my hair go white. It's been a few months, but we'll see how it works. I call it "going blonde," but I think I'm chickening out already. I just don't want to be dying it forever — when you realize how much you absorb into your skin. Where I go, the dye is nontoxic, but I have to dye it every three weeks if I want to properly maintain the roots. When you have dark hair, even a tiny bit is so obvious.
On what is beautiful: The most beautiful women have an energy they put out there. It's more than skin deep; it's a combination of things — their spirit, their energy, and their look. When I was younger, I had boyfriends that weren't the best looking, but to me they were really handsome. You fall in love with people over time, and I think beauty is like that. Someone might not be beautiful, but after you talk to them, they become more beautiful.