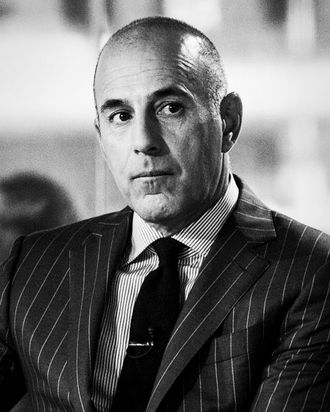 Photo: NBC/NBCU Photo Bank via Getty Images
Matt Lauer hasn't learned anything. That much is clear from the very long statement he released in response to allegations that he raped a former NBC employee, Brooke Nevils, in 2014, the details of which are contained in Ronan Farrow's forthcoming book, Catch and Kill. The "open letter" Lauer released is a 101 course in victim-blaming.
In Catch and Kill, Farrow reports that Nevils told him that she ran into Lauer at a hotel bar while she was covering the Sochi Olympics. After taking six shots of vodka, she said she went to Lauer's room, where he "pushed her against the door and kissed her. He then pushed her onto the bed, 'flipping her over, asking if she liked anal sex,'" according to Farrow. In the midst of declining several times, Nevils says he "just did it," and that she wept silently into a pillow during the assault, which caused her to bleed for several days.
Nevils took her complaint to NBC's human resources department with a lawyer, which led to Lauer being fired from the network in 2017.
In his statement issued today, Lauer does not deny having sex with Nevils; instead, he uses their ensuing consensual sexual relationship to deny that he could have ever raped her. According to Lauer, Nevils couldn't have been friendly to him after the incident if he had indeed assaulted her, despite what we know about many victims engaging in consensual activity with their abusers.
In his letter, Lauer describes his "encounter" with Nevils in Sochi as "the beginning of our affair." He claims Nevils "certainly did not cry" during it; that she was an "enthusiastic and willing partner"; that she "embraced [him]" when she left the room that night. He emphasizes that they met on multiple occasions "to continue our affair," were friendly after it ended, and that she couldn't have been terrified of the power Lauer wielded over her job, because she worked "in a completely different part of the network."
Lauer's romantic language is an attempt to codify his physical relationship with Nevils as consensual, instead of one inextricably defined by their unequal power dynamic. He further implies that Nevils herself is guilty, that she is avoiding her own transgressions: He writes, "The women with whom I had extramarital relationships … have avoided having to look a boyfriend, husband, or a child in the eye and say, 'I cheated.'"
Nevils clearly had reason to feel coerced on some level by Lauer's stature at NBC, which paid him $25 million a year. Farrow's book also details how top executives at the network worked so hard to silence Farrow's reporting on Lauer for their mutual employer that he ended up taking it to The New Yorker.
Yet Lauer portrays himself as the powerless one. He cites his family's suffering as evidence of his accusers' maliciousness, and Nevils's payout from NBC as evidence of her duplicity, not as consequences of his own actions. Has he forgotten that three other women came forward with allegations against him? Are they to blame, too?
"Which Brooke is to be believed?" Lauer writes, as if he is acting in a local Hamptons production of The Crucible. Good thing most of us are smarter than he thinks we are. On the Today show this morning, Savannah Guthrie said, "I know it wasn't easy for our colleague Brooke to come forward then, it's not easy now, and we support her and any women that come forward with claims."