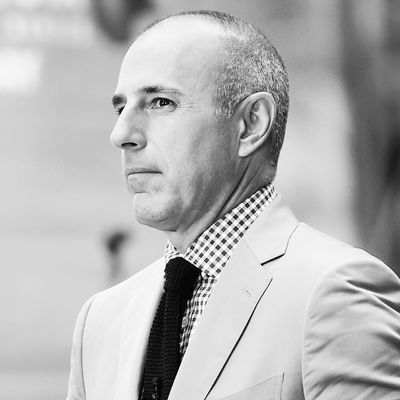 Photo: Michael Loccisano/Getty Images
Former Today show host Matt Lauer has been accused of mistreating yet another of his female colleagues during his time at NBC. According to a new report, Lauer allegedly exposed himself to a Today producer in his office in 2010, then berated her when she tried to leave.
The allegation was reported by Ronan Farrow in his new book Catch and Kill. Farrow writes that the producer went to Lauer's co-host Ann Curry at the time but begged Curry not to reveal her name to executives out of fear of retaliation from Lauer. Curry later shared the woman's account with Farrow.
According to Farrow, Curry told him during his reporting for Catch and Kill that a colleague had come to her in 2010 to say that Lauer had exposed himself to her and propositioned her. "It was as close as you could get to a women just melting in front of you in pain," Curry reportedly said of the colleague's state when she reported the incident. Farrow was later able to identify the woman as Melissa Lonner.
Farrow reports that Lonner and Lauer were at an event at NBC's 30 Rock headquarters when Lauer asked her to join him in his office. Inside, Lauer reportedly unzipped his pants and exposed his erect penis. When Lonner tried to get out of Lauer's office by "joking she didn't want to be intimate in a place 'where everyone else has done it,'" Lauer allegedly became angry, according to Farrow, saying, "Melissa, you're a fucking tease. This is not good. You led me on." (Sources close to Lauer denied this account, per "Page Six," saying he "only recalled making a joking lewd gesture.")
Lonner never went to higher-ups with her story, according to Farrow's reporting, and she begged Curry and another person she told not to name her if they told anyone. But Curry did tell two senior executives that "they had a problem in Lauer," she says. "That he had a problem with women. That they had to keep an eye on him."
Lonner was allegedly let go suddenly by NBC in 2013, after which she consulted a lawyer, who told her she could not make a harassment claim about Lauer due to the statute of limitations. She was then paid a six-figure sum to sign a "release of rights" agreement, which she thinks was used to keep her from talking about Lauer publicly, according to Farrow. (NBC News president Noah Oppenheim said in response that she'd signed a "routine confidentiality clause," which "was not drafted to prevent an employee from reporting misconduct.")
Lonner did not talk to Farrow for Catch and Kill, and it's unclear from excerpts who his sources are, in addition to Curry, for Lonner's account. But Lonner allegedly told "multiple colleagues" over the years, and her story about Lauer remained consistent.
By the time Lauer was finally let go from NBC in 2017, four women had accused him of sexual misconduct, including Brooke Nevils, who says that Lauer anally raped her on a work trip. (In a lengthy open letter, Lauer insisted that the encounter had been consensual.) NBC has been widely criticized for its handling of the complaints against him; meanwhile, Oppenheim recently claimed in an irate memo to network staff that Farrow's reporting was built on "a series of distortions, confused timelines, and outright inaccuracies."