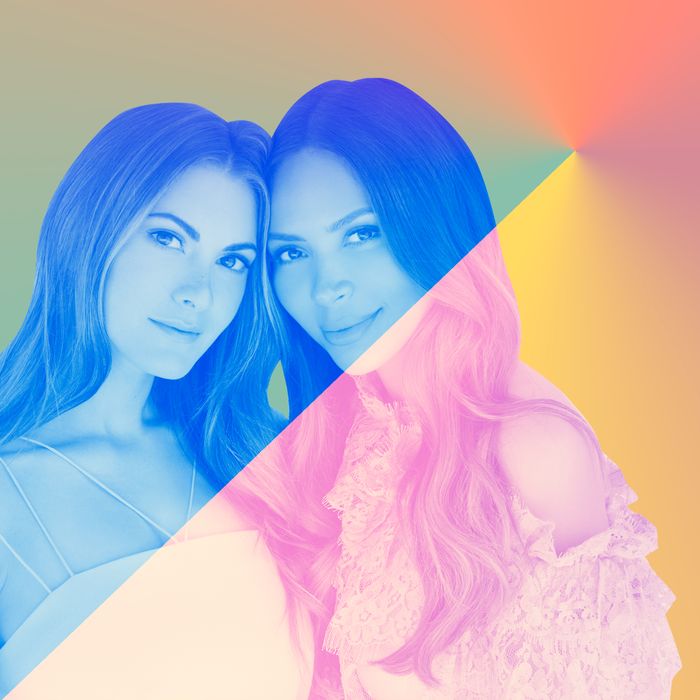 Photo: Courtesy of Summer Fridays
Everyone has a childhood idol, and for Lauren Gores and Marianna Hewitt, co-founders of skin-care line Summer Fridays, that idol was Oprah Winfrey.
"I'd walk around with my mom's video camera, interviewing anyone I could," says Hewitt, who grew up in Columbus, Ohio. "I always wanted to share the things I loved with an audience, and Oprah got to do that, so the only way that I thought I could share the stuff I loved was to become a TV host."
Meanwhile, next door in Michigan, Gores took to the camera early, too.
"There are lots of videos of me giving presentations at school," confirms Gores. "The weather report was a particular favorite. Being a broadcast journalist was the only career I wanted."
Ten years ago, both having moved to Los Angeles — Gores as a news anchor and Hewitt as a TV host — they started blogging around the same time. A few years into their respective blogs — Hewitt's Life With Me and Gores's You & Lu — they quit their TV jobs and became full-time bloggers and influencers. After a mutual friend introduced them, the two discovered they had tons in common, including a love of face masks. When Gores became pregnant, it triggered an idea.
"I was in the process of switching my beauty routine over to clean, but nothing was working, nothing was effective, and I didn't trust anything either," remembers Gores. "That's when we got this idea for creating a skin-care line."
They took to Google and cold-called "a lot of labs" before landing on one that fit with their clean ethos, including their No List, which was strongly influenced by Gores's pregnancy clean-out. After the usual first-product trial and error, Summer Fridays was born.
"Summer Fridays evokes the feeling of something that everyone looks forward to," says Hewitt. "We know some influencers name their brands after themselves, but we want our brand to live beyond us."
Jet Lag Mask debuted in March 2018, and Overtime Mask came the following October. R&R Mask landed in January, and last month, they launched their first non-mask product, CC Me Serum.
"We created the products with longevity in mind. In five to ten years, will they still use CC Serum every day in their routine?" says Hewitt. "So, instead of launching a lot of products quickly, we decided to launch a few things that become daily products that you'll want to use forever and ever."
Gores and Hewitt spoke with the Cut about their mutual love of denim, bodysuits, and the comfort of a good bowl of pasta.
What's your definition of beauty? 
Lauren Gores: Beauty is being wholeheartedly yourself. I feel most beautiful when I am unafraid to be fully me — as a friend, a colleague, a mother, a wife, a stranger. Beauty starts as a feeling of believing and knowing we are each uniquely beautiful, and carrying that belief with us into our day-to-day life.
Marianna Hewitt: Feeling confident and being your true self.
What do you think when you hear the term "clean beauty"?
LG: I think of awareness and transparency, alongside education and forward thinking. The term "clean beauty" and how it's defined will continue to shift. But ultimately, I think of our ability to better care for ourselves by using and creating products with ingredients that are safer for our overall health.
MH: I associate it with brands who choose to not use certain ingredients.
Where, if anywhere, in your beauty (or life) routine are you not quite that clean, green, or sustainable? 
LG: I always admit it's about small steps, and we cannot change all things overnight (or even in several nights!). I still love a good drugstore run for everyday products like body lotion and nail-polish remover. I also love a handful of makeup products that aren't necessarily clean, but they really do the job on covering up that blemish!
MH: I have tried so many natural deodorants and I can't quite find something that works for me yet. Being in Los Angeles, where it is always hot, I really need one that works!
Please fill in the blank as it pertains to something connected to your beauty routine, product or otherwise: I think about _______ a lot.
LG: Self-care.
MH: SPF.
What is your morning skin-care routine?
LG: Tatcha Cleanser, CC Me Serum, moisturize with Summer Fridays Jet Lag Mask, Supergoop! sunscreen, Honest Beauty Tinted Lip Balm.
MH: iS Clinical Cleansing Complex, Summer Fridays CC Me Serum and Jet Lag Mask and Supergoop! SPF every single day.
What shade, if any, is usually on your toes and/or fingers?
LG: Essie Pin to Perfection or Olive & June in GH.
MH: Essie Ballet Slippers.
What's the last beauty product you use every night?
LG: Summer Fridays Jet Lag Mask (I lather on a thick layer just before bed so it can soak in overnight for the ultimate hydration).
MH: Kaplan MD Perfect Pout Lip Mask.
Who makes the best retinol product?
MH: Shani Darden Retinol Reform.
What aspect of your beauty routine tends to be neglected?
LG: Sleep! I try my hardest to get in those eight hours every night, but between running a business and being a mama to a wild 2-year-old, sleep doesn't always win. But someday, right?!
MH: Washing my hair — I hate drying it, so I try to wash it as little as I can.
Fragrance of choice:
LG: Chloe Eau de Toilette.
MH: Huda Kay Ali Vanilla.
Bath or shower?
LG: Shower (it's faster!), with Necessaire the Body Wash in eucalyptus.
MH: Shower, with Dove body soap.
What discontinued product do you mourn?
MH: Mario Dedivanovic did a collaboration with this brand called Giella probably seven or eight years ago called Eye M Glam, and it was a dusty highlighter in the perfect tone.
What was your first beauty-product obsession?
LG: I will never forget how I thought my mom was a true magician when she covered up my first pimple. It was during those early middle-school years, when everything felt so important. I woke up with a (very!) red bump on my face and cried. She pulled out Clinique cover-up and the pimple vanished. I left for school that morning feeling so confident over what I felt like was our little secret!
MH: My mom loved Pond's Cold Cream, and I loved the texture and smell. I would always take hers and use it, and I never actually even knew what it did, but it reminded me of her, so I had to have it.
Daily carryall of choice:
LG: Cuyana Classic Structured Leather Tote.
MH: Saint Laurent Shopping Leather Tote.
Who makes your eyeglass frames?
MH: Chamberlain by Warby Parker.
How do you like your bed?
LG: Like a cloud, with a lot of pillows, and linen sheets.
MH: Made!
What book are you currently reading?
LG: The Universe Has Your Back, by Gabrielle Bernstein.
MH: Winning Her Business, by Bridget Brennan.
What is your classic uniform?
LG: DL1961 Denim plus a Zara or Carbon 38 bodysuit or cropped blouse plus classic nude heels plus layered gold jewelry.
MH: DL1961 Denim (a collab I did with them), Zara body suit, duster sweater, and nude heels.
Whose shoes are you usually wearing?
LG: To work: nude suede heels. To mommying: APL slide-on sneakers.
MH: A clear strappy heel because it goes with everything.
What do you own too many of? 
LG: Crop tops. I remember when I became pregnant with my son, I had to do a very quick shopping haul because nothing fit within the first month!
MH: APL shoes.
What is your usual pop of color, fashion-wise?
LG: I am loving a muted yellow right now.
If someone named a lip shade after you, what color would it be?
LG: A muted pink.
MH: It would be a nude lipstick that's more brown than pink.
Any hidden or secret talent or skill you possess?
LG: I can speak some Arabic! No one knows it, but it's my family's first language (my dad immigrated here from the Middle East), so I teach my son some of the basics, like "I love you." It's really sweet to see parts of my roots being passed along to him!
MH: My mom would say that I'm really good at math. I also have a really great memory.
What is your own personal definition of misery?
LG: Feeling regretful over risks I didn't dare to take, which is why I usually take them — and fail often — because I cannot live with the thought of not trying.
MH: Not being in charge of my own life.
Most interesting conversation you had recently?
LG: With my son, who asked me, "Are you happy, Mom?" right after I disciplined him for throwing something across the room. The question caught me off-guard, but it was a reminder to talk openly about our feelings. I explained that sometimes we feel happy and sometimes we feel sad or upset or angry — and that all of those feelings are okay to feel.
What would the name of your autobiography be?
LG: Diaries of a Mommy CEO: Changing Diapers While Wooing Investors.
MH: I can't think of a title, but it would have to do with the power of positive thinking and manifesting.
Who would star as you in the film adaptation?
LG: Minka Kelly.
MH: Lana Condor.
Favorite smell?
LG: Vanilla, chamomile, rose, peppermint.
Least favorite smell?
MH: Food after I'm done eating.
What do you think Pantone's color of 2020 should be, and why?
LG: Mint green. It's fresh, it's muted, and it's gender-neutral.
MH: CC Me coral. It's such a beautiful tone: not too pink, not too orange, and it's flattering in everything from clothes to packaging.
What can't you leave alone?
LG: An unfluffed pillow.
MH: My friends' Instagram feeds.
What calms you down?
LG: Prayer and meditation (and a long conversation with my mom).
MH: Warm weather and alone time.
Comfort food:
LG: Pasta Alfredo.
MH: Pasta, anything with vodka sauce.
What do you foresee as the top beauty trends for 2020?
LG: I think we'll continue to see an emphasis on clean skin care. We'll see a focus on hydration, ingestible beauty products, and cosmetics with skin-care benefits.
MH: Euphoria-inspired makeup. I can already see Coachella 2020 beauty looks having so many rhinestones and graphic eyeliner. I love what the show has done for fun eye makeup.
If you won the Power Ball tomorrow, what are the first five things you would do? (After, of course, donating the majority of it to your top charities …)
LG: Call my mom (obviously), plan a worldwide trip with my husband and son, start a nonprofit for kids with disabilities, launch another business idea on my bucket list, and invest in female-founded companies I deeply believe in.
MH: Move my mom closer to me, hire more employees, take my friends on a trip, unlimited flower deliveries (I love having fresh flowers at home), and blowouts every day, since I hate washing my hair!