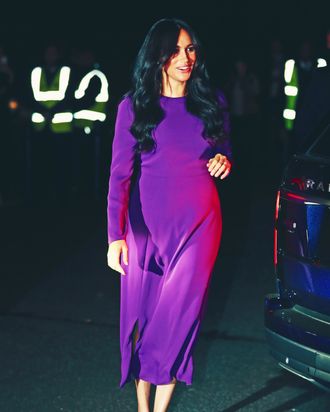 Photo: GARETH FULLER/POOL/AFP via Getty Images
Unlike other fashion-forward celebrities, Meghan Markle doesn't hesitate when it comes to wearing the same outfit twice, which is one of the reasons her royal wardrobe is so appealing.
In fact, this has helped her in becoming somewhat of an ethical-fashion icon, along with her penchant for ecofriendly designers. While many of us can relate to her outfit-repeating tendencies, she's taken them to a new level by repeating a maternity outfit. Maternity clothes, despite being a $2 billion industry and another thing moms-to-be have to worry about, are not usually something non-royals think to wear again, especially when they aren't expecting.
But in her first public appearance since the release of the documentary Harry & Meghan: An African Journey, Meghan attended the One Young World Summit in London wearing a dress that was not only fairly affordable but also something she wore when she was pregnant.
According to Vogue, the long-sleeved purple midi dress is a style from Aritzia called the Babaton Maxwell dress. Before it sold out, it cost $50 (discounted from $138). The duchess wore it with navy-blue suede pumps by Manolo Blahnik to the summit, which is a forum for youth leaders from around the globe to gather and discuss current issues. The last time Meghan wore the dress was in January of this year, when she was six months pregnant with baby Archie.
That time, she wore it with a $1,500 red coat, by Canadian fashion brand Sentaler, and red heels. (Was this daring color combination a secret homage to the Red Hat Society? I'd like to think so.) Her sister-in-law, Kate Middleton, has been known to rewear her maternity clothes as well, though usually when pregnant.
Cheers to Meghan Markle for being a sustainable, rule-breaking icon yet again.