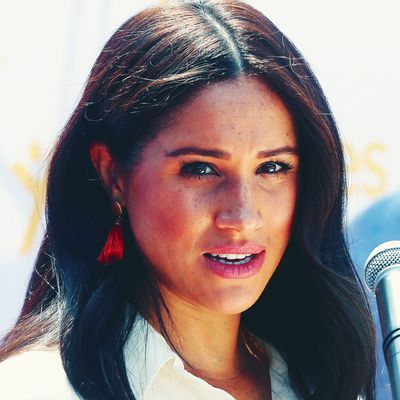 Meghan Markle.
Photo: Chris Jackson/Getty Images
Ever since beginning her relationship with Prince Harry, Meghan Markle has faced harsh public scrutiny. For more than three years, British tabloids have covered the Duchess of Sussex's every move with a critical lens, casting a cynical light on everything from her strained family relationships to the way she holds her own child; some coverage of her has been explicitly racist. In fact, the Daily Mail's fixation on Meghan has gotten to be so invasive that the couple is suing the tabloid over privacy concerns, and reportedly considered leaving the U.K. altogether. And Meghan is feeling the weight of it all.
While the Duchess of Sussex has remained largely silent about her treatment in the press, in the forthcoming documentary Harry & Meghan: An African Journey, she briefly opens up about her physical and mental health. In particular, she touches on how she has struggled with life under the spotlight, as well at the tabloids' coverage of her, both during her pregnancy and since giving birth to Archie this past May.
"Any woman, especially when they're pregnant, you're really vulnerable," Meghan tells ITV News at Ten anchor Tom Bradby with a pained expression, in a clip released by the network on Friday. "And so that was made really challenging, and then, when you have a newborn, you know? So you add this on top of just trying to be a new mom and trying to be a newlywed."
She then pauses, before adding: "And also thank you for asking, because not many people will have asked if I'm okay." When Bradby follows up with a question about whether Meghan has struggled to adjust to this life, she instantly responds, "Yes" with a strong nod of the head.
While the full documentary is not yet out — it's scheduled to air on October 23 at 10 p.m. on ABC — the video clip gives a rare glimpse into Meghan's personal experience as a royal, rather than as a distant public figure. Speaking about coping with the stress of it all, Meghan tells Bradby, "It's a very real thing to be going through behind the scenes."