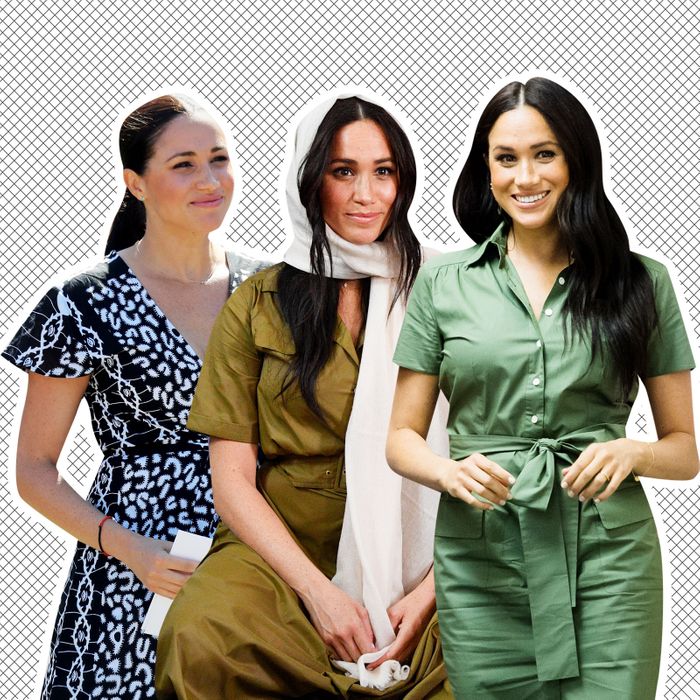 It seems like no matter what she wears or does, Meghan Markle is always breaking tradition, whether it's with her bare legs, goth nail polish, or hugs. But the Duchess of Sussex has also made waves for her clothing choices, specifically her affinity for wearing designers that focus on sustainability (as evidenced by her choice to wear Stella McCartney for her wedding reception).
Since becoming a member of the British royal family, Meghan has also helped put a spotlight on smaller and lesser known labels, including ethical denim company Outland Denim, the London-based fashion brand Safiyaa, the up-cycled sneaker brand Veja, and jewelry designer Pippa Small.
She's also a known outfit-repeater, and doesn't seem to have any qualms about wearing the same garment more than once — like she's done during this month's royal tour of Africa with Prince Harry. The trip has also given Meghan ample opportunities to showcase her favorite ethical designers. Here's a look at all of Meghan's sustainable outfits from the tour.
Meghan kicked things off by wearing a black and white patterned dress from Myamiko, a fair-trade brand from Malawi.
During a visit to the international charity Action Aid on October 1, Meghan wore a belted shirtdress from the ethical brand Room 502.
On September 24, Meghan visited the Auwal Mosque wearing an olive-colored "Millie dress" from the label Staud. The maxi dress is made from recycled nylon.
One of the aforementioned outfit-repeating moments was the striped Martin Grant maxi she wore to a reception at the Residence of the British High Commissioner in Cape Town.
She was also seen in the same blue Veronica Beard dress she wore during a trip to Tonga last year.
To meet with women entrepreneurs in Cape Town at the Woodstock Exchange, Meghan opted for a $120 jumpsuit from Everlane.
During a visit to Monwabisi Beach in Cape Town, Markle wore a Madewell denim jacket, which was naturally deemed a "Royal FIRST."