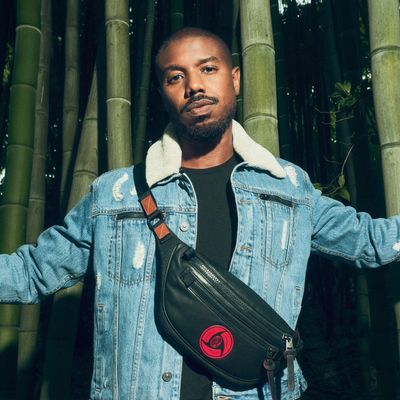 Thoughtful hottie Michael B. Jordan has designed a unisex ready-to-wear collection for Coach, inspired by the hit anime series Naruto. If this seems somewhat unusual, consider the following facts: Jordan is the first global face of Coach menswear; the fashion and anime worlds collide more often than you'd think — the genre has inspired a wide range of brands, from Supreme to Prada; and Jordan really, really loves anime.
In a statement, he makes it clear that the line comes from more than just a fleeting interest: "With my name on this collection, it was important to design pieces that represent my cultural influences and my community; pieces that I could see my friends, family and fans wearing with pride. As with all aspects of my work, this collection is about bringing fresh perspectives and unique voices to the forefront. Expanding into the fashion design space was rewarding beyond my expectations."
The collection includes T-shirts, a sweater, a hoodie, utility pants, denim jackets, a bomber, a parka, and even a luxurious shearling jacket — all decorated with Naruto-inspired artwork. Prices range from $95 for a T-shirt to $2,500 for the shearling. Take a look at the campaign starring the actor below, and shop the whole collection here.