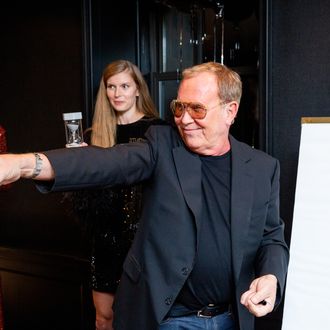 Photo: Max Lakner/BFA.com
Last Thursday, Bergdorf hosted the second installment of "Designer's Off Duty," a new series in which fashion personalities host master classes on their hobbies. This time, Michael Kors led an intimate disco-themed game night in celebration of his newest collection, which was inspired by Studio 54.
Guests dressed in sequins, feather boas, and metallic jumpsuits huddled around Kors as he shared stories from his evenings attending the famed nightclub during his studies at FIT. He gestured at the room — which was decorated with disco balls, metallic balloons, and a life-size faux horse — and said, "This would be a mild day."
With Champagne in hand, guests were split into two groups led by Kors and Bergdorf's Linda Fargo for a game of Pictionary. Strangers quickly turned into friends as the teams took turns drawing and acting out Studio 54–related terms such as "street style," "cat walk," and "drink ticket."
After the playful competitiveness came to an end, the event moved downstairs to the collection showcase, where partygoers tried on clothes while discussing their favorites with Kors himself. The new pieces reflect the eclectic styles seen in clubs at the time — from intricate sequined ball gowns to more understated plaid trousers and tailored coats. All in all, the night perfectly encapsulated the concept behind Kors's new collection: "to re-create the sense of joy that I think fashion should always have."
See pictures from the party below.