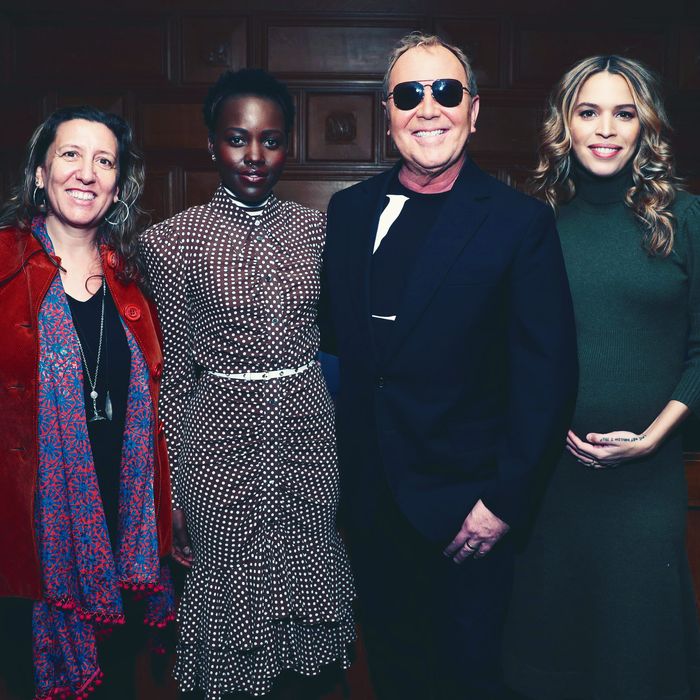 Antonella d'Aprile, Lupita Nyong'o, Michael Kors, and Cleo Wade.
Photo: JP YIM/Getty Images
The idea that fashion is political is almost a cliché at this point. But when Michael Kors and Lupita Nyong'o head to the U.N., that's another level. Yesterday, Kors, Nyong'o, poet Cleo Wade, and Antonella d'Aprile, the World Food Programme's country director in Nicaragua, gathered at the U.N. along with an intimate group of friends, activists, and press to discuss world hunger.
"This is a solvable problem. There is enough food. We have to make noise, we have to let people know they can get involved and make a difference," Kors said. The charitable arm of his brand, Watch Hunger Stop, has been around for seven years and partners with the U.N.'s World Food Programme. The theme of this year's campaign (which launched this month) is "Food Is Love." The campaign stars Nyong'o and features $40 shirts and a canvas-and-leather tote for $59. All the proceeds go to buying school meals for the World Food Programme.
But Nyong'o has another challenge for the budding philanthropists among us — instead of getting an extra cup of coffee a day, donate that amount instead. A meal through the WFP costs 50 cents, so a $4 latte translates to eight meals. "If one of us decides to not drink our morning coffee and instead donates it, that goes such a long way," Nyong'o said. "When you're able to participate and see for yourself … there's an empowerment that gives you as a philanthropist." If you can't part with your coffee but can get a T-shirt, Michael Kors will donate 100 extra meals for anyone who shares its shirt on social media with the hashtag #WatchHungerStop. Pretty good deal.