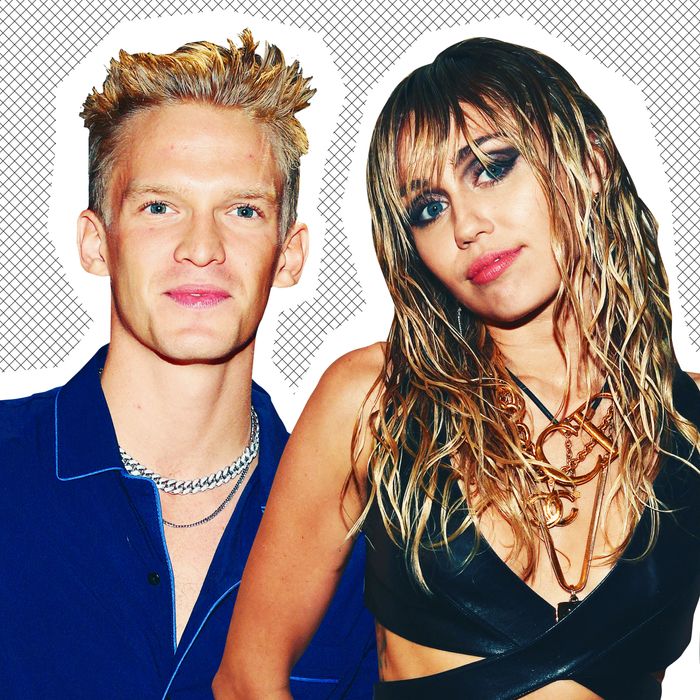 Miley Cyrus and Cody Simpson.
Photo: Getty Images
Today in news that confirms Celebrities Are Just Like Us, Miley Cyrus is enthusiastically participating in one of America's most humiliating pastimes: posting nonstop about one's boyfriend.
If you're experiencing mild whiplash from Miley's post-marriage life, let us quickly summarize. In December of 2018, Miley married Liam Hemsworth, whom she dated on and off starting in 2010. After less than a year as husband and wife, the couple reportedly filed for divorce. Soon after that, in early August, Miley was spotted making out on a yacht with Brody Jenner's longtime girlfriend Kaitlynn Carter, which prompted her to confirm that she and Liam were divorcing. Then, in late September, a source told E! News that the iconic double-rebound relationship had dissolved. But Miley seems to be doing okay dating-wise. Last week, photos emerged of her making out with her longtime friend and fellow singer Cody Simpson during an "acai bowl outing." And clearly, she's excited about this relationship — so much so that she can't stop posting about him.
"BF coming to visit me @ the hospy," she captioned a selfie that she posted on her Instagram Story yesterday. (While she's clearly healthy romance-wise, she isn't health-wise: She's in the hospital for tonsillitis.) And then came all the photos and videos of them together. First, a selfie of the two of them. Then, multiple videos of him serenading her with his guitar. ("This sweeeeeet guy came to visit at the hospital and sang the sweeeeeeetest song he wrote just for me," she captioned one of the videos.) And finally, to conclude her boyfriend content, Miley posted two more photos: one of him holding his guitar and roses, and then a close-up of the flowers.
"Arrived with roses and a guitar in his hand," she captioned the second-to-last photo. "#ImNotCrying #YoureCrying."
And, per an Instagram Story she posted the other day, he has everything she wants in a partner; over a photo of him, she wrote, "22 [check] Australian (my type) [check] Abs [check]."
Who among us has not been moved to post excessively in the throes of new love?