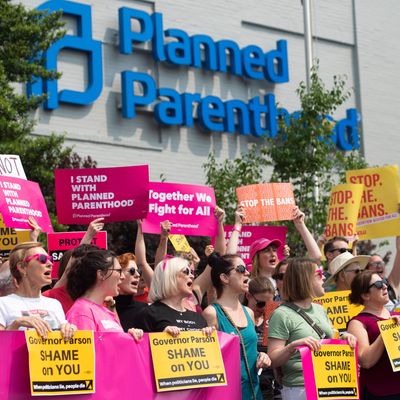 Photo: SAUL LOEB/AFP/Getty Images
The monthslong battle for Missouri's sole remaining abortion clinic culminates this week with hearings to determine whether it can remain open or if the state health department will be allowed to revoke its license.
According to the Associated Press, the hearings for the Reproductive Health Services of Planned Parenthood of the St. Louis region began Monday and are expected to last five days, though a ruling is not expected until at least February. If the license is removed, the state would become the first without a functioning abortion clinic since Roe v. Wade.
In May, Republican governor Mike Parson signed extremely restrictive legislation that banned abortion at eight weeks of pregnancy, with limited exceptions for medical emergencies, but none for rape, incest, or human trafficking. And in June, state officials refused the renew the clinic's license unless it complied with the state's punitive and restrictive regulations, which included requiring the patient to undergo multiple unnecessary pelvic exams, to observe a 72-hour waiting period, and that the physician who performs the procedure be the same who provided prior counseling. Planned Parenthood ended up filing a lawsuit, and the clinic was allowed to stay open.
The state's effort to remove the clinic's license comes after a series of four "failed abortions," including an incident in which a woman had to return for a second abortion because the doctor missed that she was pregnant with twins, and another where a woman bled heavily due to a condition that put her at higher risk that the medical provider had missed. As the AP reports, Planned Parenthood pointed out that the state chose to focus on four difficult cases out of thousands of successful procedures.
During the first day of hearings, Chuck Hatfield, the attorney for Planned Parenthood, played a video deposition in which William Koebel, director of the section of the health department responsible for abortion-clinic licensing, responded to a question asking whether the clinic was unsafe. "Not that I recall," Koebel said.
Last week, Planned Parenthood opened a new abortion clinic just across the Mississippi River in neighboring Illinois, about 15 miles from downtown St. Louis, which will help provide Missouri residents with access to abortions. "The idea is that we are creating a regional abortion-access hub," Yamelsie Rodriguez, president of Planned Parenthood of the St. Louis Region and Southwest Missouri, told the New York Times. "In a post-Roe world, this is crucial to our mission."
According to NPR, the first part of this week's trial will center on the state's case, with Planned Parenthood's response scheduled for later in the week. "The governor in the state — and, frankly, the Trump-Pence administration — has kind of invited states across the country to aggressively act on restricting access to abortion," Rachel Sussman, national director of state policy and advocacy at Planned Parenthood Federation of America, said. "And this is another strategy, another attempt, to do just that, by shutting down the last health center in the state providing care."