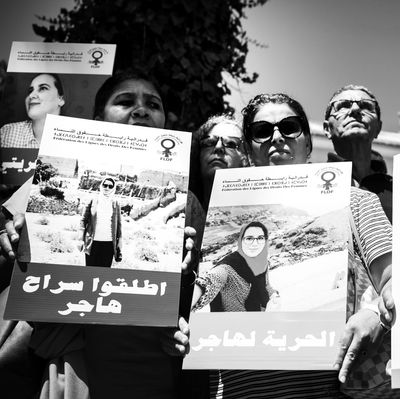 Protest of the prosecution of journalist Hajar Raissouni, who critics say has been unjustly targeted over her critical coverage of the government.
Photo: FADEL SENNA/AFP/Getty Images
On Monday, a 28-year-old Moroccan journalist was sentenced to a year in prison for an abortion that she denies ever getting, in a case that critics have condemned as part of a concerted effort to suppress journalists' critical coverage of the government, the Guardian reports.
Over the past month, the prosecution of Hajar Raissouni — as well as of her fiancé, Rifaat al-Amin — has sparked nationwide outrage. On August 31, Raissouni and al-Amin were arrested after leaving a gynecologist's office in the capital of Morocco, where abortion is illegal in nearly all cases. Raissouni claims she wasn't there to terminate a pregnancy; instead, she says she was visiting the doctor to get a blood clot removed. During the trial, a lawyer for her doctor provided medical evidence regarding Raissouni's hormone levels that further demonstrated she had not undergone an abortion.
Nevertheless, the couple was put on trial, and each was sentenced to a year in prison: Raissouni for "having an illegal abortion and sexual relations outside marriage," al-Amin for being complicit. (Premarital sex is also outlawed in Morocco.) Additionally, the doctor who treated Raissouni — who says he did not perform an abortion on her — was sentenced to two years in prison.
While most abortions are outlawed in Morocco, the Guardian reports that they're not often prosecuted, but that "charges involving a person's personal life are sometimes used by the Moroccan authorities to push back on individuals seen as too critical, including journalists and members of the political opposition." Critics says that Raissouni was unfairly persecuted for her writing at the independent outlet Akhbar al Yaoum, where she covered unrest in northern Morocco.
"A blatant injustice, a flagrant violation of human rights, and a frontal attack on individual freedoms," Ahmed Benchemsi, a Human Rights Watch communications director, said of the sentencing on Twitter. "This is a black day for freedom in Morocco." (On the Reporters Without Borders' World Press Freedom Index, Morocco ranks 135 out of 180 countries.)
But throughout her Monday court appearance, Raissouni remained steely-eyed, the New York Times reports — even as her friends erupted in tears upon hearing the verdict. Leaving the courthouse, she still didn't appear dejected. Instead, as she walked into a group of frazzled-looking law-enforcement officers, she threw up a peace sign.