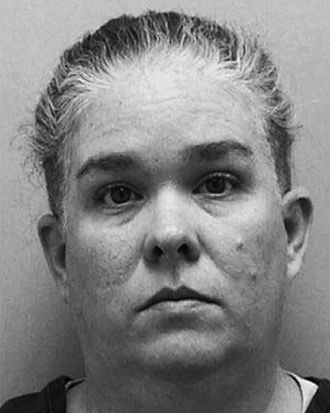 Kelly Renee Turner.
Photo: Uncredited/AP/Shutterstock
In early 2017, the story of Olivia Gant, a terminally ill 7-year-old girl with a bucket list of activities she hoped to accomplish, went viral. To help her with these goals, the Denver Police Department named her an honorary chief for a day; she spent another day pretending to be a firefighter. The Make-A-Wish Foundation threw a party where Gant dressed up as a "Bat Princess" and "rescued" Disney princesses. And then, in August of that year, Gant died after what her obituary called a "long battle" with a "rare disease."
But in the years since, the narrative around Gant's death has become increasingly murky — and recently took a disturbing twist. On October 21, Gant's mother, Kelly Renee Turner, was indicted on murder charges in connection with her daughter's death, the Denver Post reports.
What actually happened to Gant? If Turner did kill her daughter, why would she do such a thing? Is this a case of Munchausen syndrome by proxy? Below, here's everything to know about the mysterious death of Olivia Gant.
Before her untimely death, Olivia Gant garnered media attention for her long bucket list.
More than two years ago, Gant made headlines for her illness — what her mother claimed at the time was neurogastrointestinal encephalomyopathy, a condition that attacks the body's organs — as well as her bucket list, which both local and national news outlets extensively covered.
Also, way back in 2015, Turner set up a GoFundMe for Gant that amassed more than $22,000 to go toward the girl's medical and travel expenses, per the New York Daily News.
In August 2017, Gant passed away.
Gant died August 20, 2017, after succumbing to what her mother described as intestinal failure. According to BuzzFeed News, following Gant's death, Turner posted a long update to the GoFundMe page from 2015.
"The death of a loved one at any age is tough," reads the update. "I know I will have bad days, I know I will struggle but I know who holds my sweet bat princes [sic] and that 'No More Owies Princess Olivia' is EXACTLY what she asked for, what I prayed for and what God answered."
Approximately a year after Gant's death, though, suspicion started to swell around her cause of death; last week, it came to a head. On October 18, Turner was arrested in a Denver-area hotel in connection with her daughter's death. Most recently, on October 21, a Douglas County grand jury indicted her on 13 charges connected to the death, as well as the alleged abuse of her other daughter. Per the Post, the charges include two counts of first-degree murder and child abuse, as well as three counts of theft, three counts of charitable fraud, two counts of attempt to influence a public servant, and two counts of second-degree forgery.
(Turner is also accused of defrauding Medicaid, in which she enrolled her daughters, even though her husband had health insurance that would cover them, per the Post.)
A grand jury believes Turner murdered her daughter.
According to a grand jury indictment released on Monday, investigators became suspicious of Gant's cause of death in 2018, when Turner brought her older daughter to the hospital due to "bone pain." As part of a criminal investigation starting that October, Gant's body was exhumed, and an autopsy was ordered. Its results sparked even more concern. Per the indictment, medical officials found a lack of "anatomical findings" to support the originally stated cause of death — "intestinal failure" — or "many of the conditions Turner claimed [Gant] suffered from." (As of now, Gant's official cause of death has not been released.)
There's been speculation that this could be a case of Munchausen syndrome by proxy.
Munchausen syndrome by proxy is a mental illness in which a caregiver makes up false illness symptoms about a child or dependent in an attempt to gain attention — a form of abuse that Turner's alleged treatment of Gant resembles. However, Turner claims that she does not suffer from the disorder, though it's worth noting that she spontaneously brought it up during an interview with a detective in 2018.
"That has never been my case, like at all, whatsoever," she said of the disorder in the interview. "You can talk to anyone that stood by my side through and all of this."
But there is ample evidence that Turner lied about Gant's health conditions to professionals, resulting in her daughter undergoing significant medical procedures. A number of medical professionals who treated Gant also told authorities that the little girl never had a terminal illness, and that Turner was suspiciously controlling and unconcerned with their professional advice.
Dr. Robert Kramer, a pediatric gastroenterologist who treated Gant from 2013 up to her death, claims that he never diagnosed Gant with the illnesses that Turner listed on her GoFundMe pages; Dr. Kristen Park, a pediatric neurologist, says that Turner told her to pump Gant with medicine used to treat seizures, even after Park told the mother that her daughter was not suffering from the disorder. The indictment also alleges that Turner coerced a doctor into signing a "do not resuscitate" form, and stopping all care that kept Gant alive.
Furthermore, the indictment alleges that Turner also told doctors that her older daughter had cancer, though she has never been diagnosed with it. (Per BuzzFeed News, Turner allegedly admitted that she had fabricated her older daughter's cancer diagnosis, but maintains that Gant suffered from the terminal illness.)
As of now, Turner is behind bars.
According to the Douglas County Sheriff's Office, Turner is currently being held without bond at the Douglas County Detention Facility.