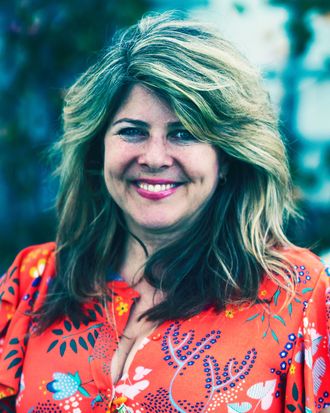 Noami Wolf.
Photo: David Levenson/Getty Images
Naomi Wolf's publisher Houghton Mifflin Harcourt officially pulled the plug on releasing her new book in the United States, likely due to substantial errors discovered in the midst of an unfortunate press tour interview.
Trouble came for Wolf in May, during an interview with BBC radio host Matthew Sweet. Wolf told Sweet that her new book, Outrages: Sex, Censorship and the Criminalization of Love, delves into evidence she found of "several dozen executions" of men convicted of sodomy in Britain, which she inaccurately claimed "corrects a misapprehension … that the last man was executed for sodomy in Britain in 1835." But as Sweet hastily pointed out, Wolf based much of her thesis on a misapprehension of the phrase "death recorded," which she took to signify "execution" when in fact it meant the exact opposite thing — that the prisoner had been pardoned. "I don't think any of the executions you've identified here actually happened," Sweet informed her. He added that in the court records Wolf researched "sodomy" referred not only to homosexuality but to child abuse as well.
Wolf's publisher had already pushed back the U.S. release date for Outrages in June. (Outrages was published in the U.K. by Hatchette Book Group's Virago Press ahead of the blunder, so the book exists, just not as much of it as Wolf surely hoped.) In a statement, Houghton Mifflin Harcourt said Wolf and the publisher, "mutually and amicably agreed to part company," the New York Times reports.
This isn't the first time Wolf has been accused of being rather cavalier with facts. As the Times' book critic Parul Sehgal notes in her review of Outrages, Wolf's first book The Beauty Myth, published in 1990, "is well-known for exaggerating the number of women who died of anorexia (Wolf stated that anorexia kills 150,000 women annually; the actual figure at the time, in the mid-1990s, was said to be closer to 50 or 60)." Sehgal writes of her 2012 book Vagina that it, "so profoundly misrepresented the working of the brain, I'm not sure science writers have recovered."
This is indicative of a larger problem: that books are often not fact-checked, or not thoroughly enough, sometimes because publishers rely on authors to check their own manuscripts. As the Times notes, its former executive editor Jill Abramson, as well as the journalist Michael Wolff, recently also wrote high-profile books that were found to be riddled with errors.