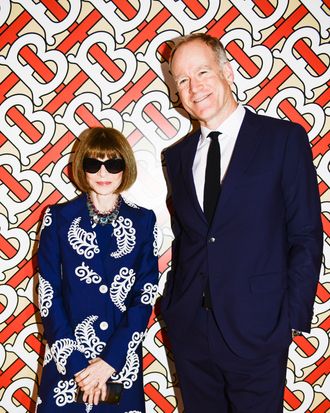 Anna Wintour, Pete Nordstrom.
Photo: Ben Rosser/BFA.com
The line wrapped around the block half an hour into Nordstrom's flagship NYC store party opening. The crowd — dressed in designer and clutching umbrellas — was undeterred. Once inside, the brand new, shiny flagship was a packed wonderland. The store is five stories tall in Columbus Circle, but the inside is cavernous. It almost feels immoral to take up that much space in New York City, but the crowd size certainly warranted it. Nordstrom had arrived — and they were going to party.
In addition to all the actual merchandise, there were cotton-candy machines, a pop-up giving out mini bouquets of flowers, and a dim-sum buffet on the fourth floor. There were baby-sized Louboutin shoes on the first floor, Comme Des Garcons coats on the fourth, and all the designer goods you could imagine in between. Each of the five floors was packed, but none more than the VIP area on the fifth floor. The Roots performed toward the end of the night on one end, while special guests gathered on the other. Maggie Gyllenhaal, Katie Holmes, Anna Wintour, and a host of other celebrities and designers sipped Champagne and ate lobster. "It feels like a rock party in here," Naomie Harris said. She also reminisced about her first experiences with the department store, "When I first moved to L.A., I lived in an apartment which was near a Nordstrom in West Hollywood. I would try things on and waste shop assistants' time because I couldn't afford it then."
This is Nordstrom's first flagship in Manhattan — although there is a men's store just across the street — but Harris wasn't the only one with memories of browsing the department store. "It's very nostalgic and sentimental for me to imagine the family coming together around the holidays and walking around the store with these women I adored, my mom and my grandmother," Olivia Wilde said. "There's something singular and wonderful about communal shopping in person." Well, now Manhattanites can have the distinct pleasure of wandering around a Nordstrom for themselves. The store is open to the public at 235 W 57th Street.