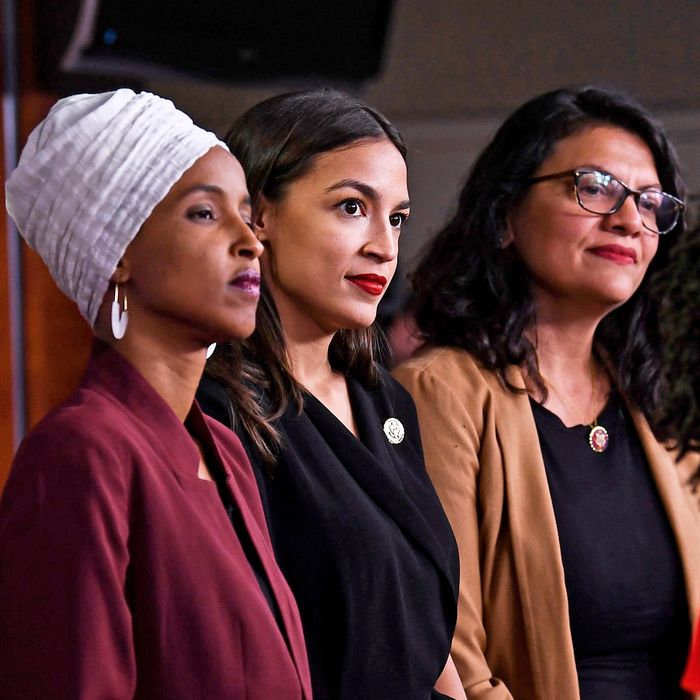 Ilhan Omar, Alexandria Ocasio-Cortez, and Rashida Tlaib.
Photo: BRENDAN SMIALOWSKI/AFP/Getty Images
With just a little over a year until the 2020 presidential election, the progressive freshman congresswomen are formally throwing their support behind Bernie Sanders.
Late Tuesday evening, nearing the end of the fourth Democratic debates, the Washington Post reported that New York congresswoman Alexandria Ocasio-Cortez is planning to give her coveted endorsement to Sanders. Shortly after, the New York Times reported that Minnesota representative Ilhan Omar, the first Somali-American in Congress, would be endorsing the candidate as well.
On Tuesday evening, Omar became the first member of "the Squad" — the group of progressive congresswomen of color that consists of herself, Ocasio-Cortez, Representative Rashida Tlaib of Michigan, and Representative Ayanna Pressley of Massachussets — to officially announce her endorsement. In a statement, she said that Sanders's commitment to ending inhumane immigration policies, student debt, and "forever wars," among other human-rights violations, have convinced her that he's the best Democratic presidential candidate.
"Bernie is leading a working-class movement to defeat Donald Trump that transcends generation, ethnicity, and geography," she said. "I believe Bernie Sanders is the best candidate to take on Donald Trump in 2020."
The next morning, Omar reiterated her support for Sanders in a heartfelt video posted to Twitter, applauding the movement that Sanders has diligently built over the years. "One of the amazing things I think about the senator is that he understands we have to find solutions to our greatest problems," she says in the video. "This is the first for a better future, one that we can all be proud of." In an accompanying tweet, Omar said Tlaib will also be endorsing Sanders, though Tlaib has since pushed back on this claim. In a statement released on Wednesday, the Michigan congresswoman said she has not yet decided which presidential candidate to endorse, explaining, "It is critically important to me to involve my residents and my district in every major decision I make because staying rooted in community makes our movement stronger." She did, however, say she's looking forward to giving Sanders a tour of her district later this month.
Although a spokesperson for Ocasio-Cortez declined to officially confirm that an endorsement was forthcoming, he told the outlet that the congresswoman's team was "looking forward to Saturday" — the same day of Sanders's New York City rally, where he has teased the presence of a "special guest."
Sanders has reason to be celebrating; these endorsements, both official and rumored, are significant. Since the freshman congresswomen were sworn into office this past January, they have bravely and relentlessly challenged the Democratic establishment to adopt more progressive platforms on everything from climate change to health care. As a result, the public has watched in anticipation to see which of the two most progressive candidates they would support: Sanders or Massachusetts senator Elizabeth Warren. And they come at an opportune time for Sanders. After he suffered a heart attack earlier this month, there have been concerns over his health, and Sanders has been slipping in the polls while Warren has been rising.
In a tweet responding to Omar's endorsement, Sanders wrote, "Together we will build a multiracial working class coalition to win the White House."
This post has been updated.