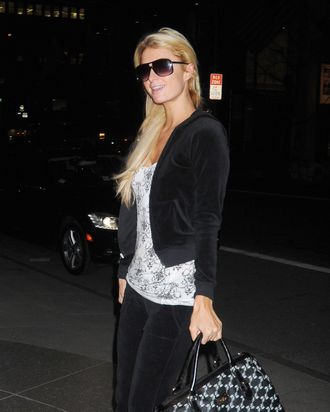 Photo: Arnaldo Magnani/Getty Images
Celebrities are often chameleons when it comes to their clothing choices. Miley Cyrus, Katy Perry, and Lady Gaga are all stars who have undergone dramatic style evolutions throughout the years. Which is why it's strangely comforting to find out that a rich famous person like Paris Hilton has committed to a lifetime of one particular item in her closet: the velour tracksuit.
Hilton has been the poster child of the Juicy Couture velour tracksuit ever since its heyday in the early 2000s. But even when they were deemed passé, gone from retail existence, and made an eventual comeback through the fashion trend cycle, almost 20 years later, she has always been their number-one fan. That means they have survived numerous relationships, engagements, and, possibly, any temptation to do a Marie Kondo closet clean-out.
In an interview with the Guardian, Hilton talked about her everlasting love for the tracksuit, which she wears whenever she's not in her going-out clothes.
"When I go to a party, I love to be glamorous and go all out; I like to sparkle and feel amazing. However, my everyday wear is very comfortable. I love Juicy Couture's velour tracksuits; I probably own 100 of them in every color. That's my uniform when I'm chilling at home or going to the beach — anything that doesn't involve a red carpet."
Hilton has talked about her "lifetime supply" in the past, including in an interview with the Cut in 2015. "I still wear it, even though everyone is like, 'Juicy is over.' I still love it. They're the most comfortable tracksuits, cute colors," she said at the time.
I admire this kind of dedication, and also wonder if this could be attributed to decision fatigue. Does Hilton do the Elizabeth Holmes–Steve Jobs-same-outfit-thing so she doesn't have to spend precious brain time thinking about her casual wear? Or does a B just like to be cozy? (It does make the perfect airport outfit, according to me, who wears one each time I fly.) Either way, I'm impressed!