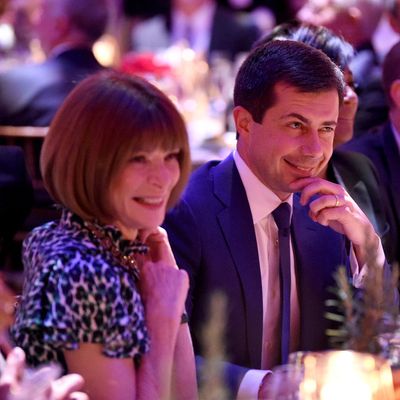 Anna Wintour and Mayor Pete Buttigieg.
Photo: DIMITRIOS KAMBOURIS/Getty Images for Michael Kors
On Monday night, Mayor Pete Buttigieg sat at a long table at Cipriani South Street flanked by Vogue editor-in-chief Anna Wintour and actress Tiffany Haddish.
It was not the Democratic presidential candidate's usual crowd, although he does have quite the celebrity fan base. "I'm so pleased to be here, even if this room gives me a little more fashion anxiety than usual," he said when he eventually took the stage wearing his signature matching blue suit and tie.
Buttigieg was there to accept the Golden Heart Award for Outstanding Leadership and Public Service at the annual God's Love We Deliver fundraising dinner, which raised $2.9 million. Wintour is the event's honorary chairwoman and Michael Kors the co-chair, hence the stylish guest list. Lupita Nyong'o and Marisa Tomei were also in attendance, each wearing their own, much-flashier variation of a suit.
Fellow honorees included beauty mogul John Demsey for his work with the M.A.C Viva Glam Fund and the American-Somali supermodel Iman, who modeled for Kors in the '80s. "I have one thing in common with you, which is being known by one name most of the time," Buttigieg joked of the latter honoree. Adding: "Although probably for different reasons."
When Iman took the stage at the end of the night wearing yet another suit (this one in shimmering gold leopard-print), she scolded the room for not being able to pronounce the Mayor's name. "BOOT-EDGE-EDGE," she said with emphasis. "It's very easy. Actually, when I first heard it, I was like, Wow, sounds very African."
Kors told the Cut beforehand that Mayor Pete was asked to participate in the Golden Heart Awards quite a while ago. (Long before a report broke on Monday that Mark Zuckerberg gave him recommendations on political hires.) However, "it became apparent early on, regardless of how the election shakes out, that this is someone who is very committed to a sense of community," Kors said. "I love seeing the hometown boy. I'm a hometown boy. So I appreciate that."
God's Love We Deliver now services a variety of New Yorkers with homebound illness. But in the beginning (it was founded in 1985), many were gay men dealing with HIV/AIDs, Kors told press. "At the time, in my wildest dreams, I never thought I'd be married to my husband," he said. "We didn't think that we would be in a situation where we'd have an individual as eloquent, strong, and smart as Pete Buttigieg running for office. It's remarkable."
Neither Wintour nor Kors commented publicly on who they were voting for. But Kors, at least, had nice things to say about Buttigieg's suit. "He always looks perfect and unruffled, which I think is impossible," the designer said. "I mean, if I had to wear a tie every day, my tie would be askew and upside-down."
Fellow-designer Tom Ford may disagree, saying that Buttigieg's suits aren't fitted enough for his relatively small frame, but Kors was a cheerleader. "Oh, no," he said before walking away. "It totally works."