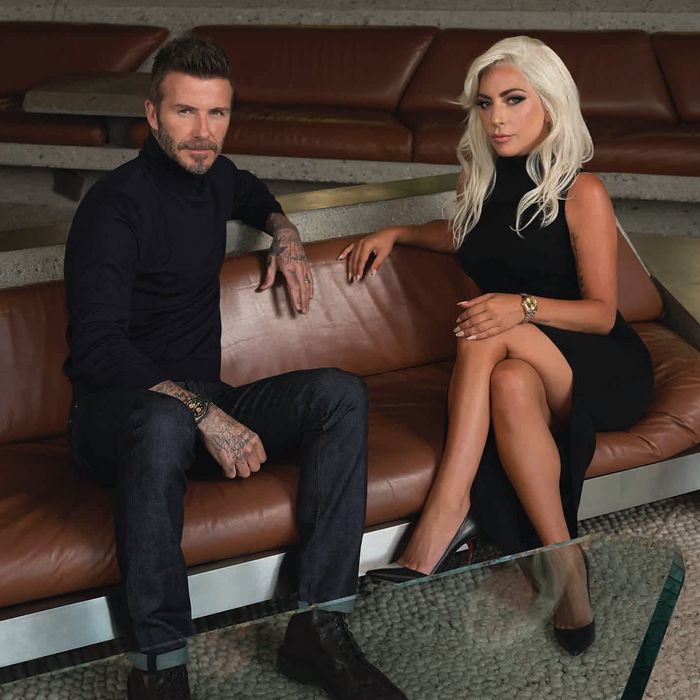 Lady Gaga and David Beckham in conversation.
Photo: Courtesy of TUDOR
In the great tradition of celebrities interviewing celebrities (Who could forget kings Harry Styles and Timothée Chalamet discussing the peach scene?), Lady Gaga and David Beckham have introduced themselves to each other.
Somewhere in Los Angeles, the two sat down and got to know one another in front of a pool overlooking the city. They used a deck of cards to ask each other questions, touching on everything from their idols (spoiler: Beckham's mother, who still works as a hairdresser in London, if you're looking for an appointment) to what's next for them.
The meeting was conceived by Tudor as part of its #BornToDare campaign. Brand ambassadors Gaga and Beckham, both pioneers in their respective fields, are each wearing Tudor watches. Gaga wears the Tudor Black Bay 36 S&G model, while Beckham wears the Tudor Black Bay Chrono S&G model.
You can watch the full video here, which is worth it just to hear Gaga tell Beckham that he can call her either Gaga or Lady. As he should, he settles on Lady.