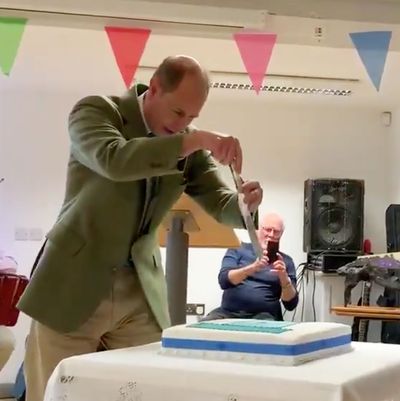 Who is this man?
Photo: @RoyalFamily/Twitter
People feel very passionately about the right way to cut certain foods: watermelon, sandwiches, cake, to name a few. As someone who truly doesn't care what people do in the comfort of their own kitchens, I've always abstained from entering any food-cutting debate. But in the wake of disturbing footage that recently emerged out of a community center in Northern Ireland, I can no longer remain silent.
On Thursday, the official royal family Twitter account tweeted a video that appeared, from the still thumbnail image, to be innocuous. One can see Prince Edward — who's apparently a funny-guy royal — holding a knife and standing next to a large rectangular cake, surrounded by a jolly crew. The accompanying text also suggested that the video would be heartwarming: "It was a happy moment for members of the local community and volunteers at Lakeland Community Care Centre, as The Earl of Wessex joined them in celebrating their 25th anniversary!"
What came after I pressed play did the opposite of warm my heart — it caused my chest to tighten so severely that I'm still experiencing shortness of breath:
As you can see, the royal man doesn't simply cut what appears to be an exceptionally delicate sponge: He exuberantly mutilates it, and with excessive force, in a manner one of my co-workers aptly likened to gutting a fish or disemboweling a deer carcass. He shows no mercy to the confection. (The onlookers, perhaps stunned into a dissociative state, clap politely as they look on.)
Someone get the Great British Baking Show judges on the phone to speak to this stat.