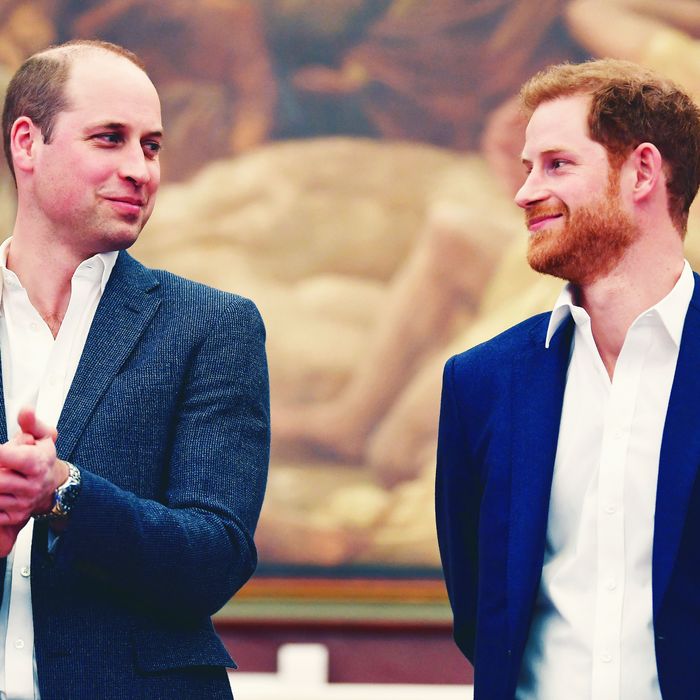 Photo: WPA Pool/Getty Images
Prince Harry has politely divulged that he and Prince William are perhaps not the closest of brothers and are certainly different people entirely.
People reports that in a new documentary called Harry & Meghan: An African Journey, which airs in the United States on Wednesday, the 35-year-old Duke of Sussex tells ITV of his 37-year-old sibling:
"Inevitably stuff happens. But we're brothers, we'll always be brothers. We're certainly on different paths at the moment. I'll always be there for him and as I know, he'll always be there for me. We don't see each other as much as we used to because we're so busy but I love him dearly."
Addressing the longtime rumor that the two don't often hang out, Harry added that, "The majority of stuff is created out of nothing. As brothers, we have good days and we have bad days."
In April, sources told People that Harry finds his brother a bit stiff and obedient, and that the supposed lack of intimacy between the brothers only became more pronounced after Harry told his family he wanted to marry Meghan Markle after a year of dating. William reportedly thought that eight years, the duration of his relationship with Kate Middleton preceding their marriage, was a more appropriate amount of time and that Harry might be moving too quickly. "Wives do change the dynamic, and they both have very strong wives," a family friend remarked to People. The friend added, "They are in very different situations in their lives." They reportedly have separate friend groups and don't spent a ton of time together.
This rumored rift was cited as a possible reason why Harry and Meghan moved out of their home in Kensington this past May, although CNN sources maintain that Harry merely wanted more independence.
In conclusion, Harry and William are different people doing different things at any given moment. Please don't mistake them for the same person, as they have different friends and even different wives.