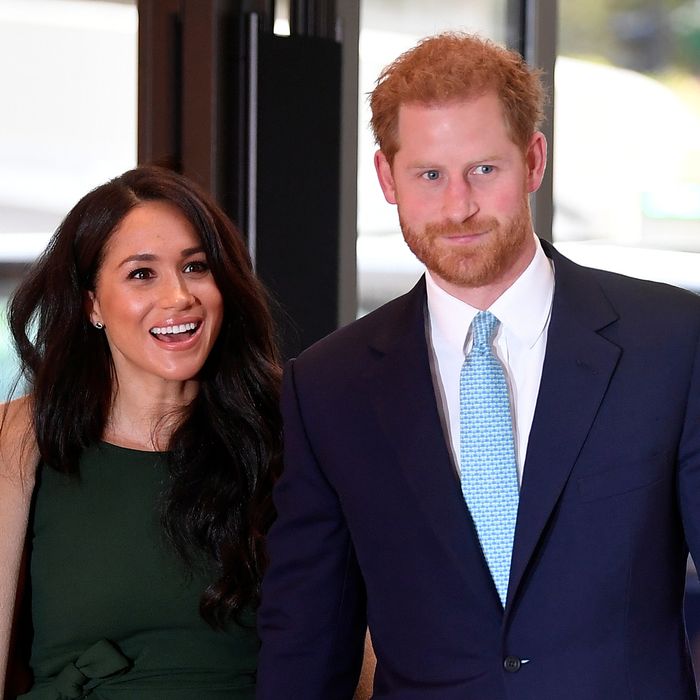 Photo: TOBY MELVILLE/POOL/AFP via Getty Images
After battling British tabloids and embarking on a royal tour to Africa, Prince Harry and Meghan Markle probably wouldn't mind a little bit of R&R. Good news, those crazy kids will finally get some! According to the Sunday Times, the Duke and Duchess of Sussex are reportedly taking a six-week break from their royal duties in the coming weeks, which will include a visit to the United States for Thanksgiving.
As the Times reports, Harry and Meghan plan to bring their 5-month-old son and newly confirmed redhead, Archie, to the States to spend the holiday with family and friends, including Meghan's mother, Doria Ragland, who lives in L.A., where Markle was born. However, Christmas will be spent back across the pond, as they are expected to return to England in time to celebrate with the royal family.
"The duke and duchess have a full schedule of engagements and commitments until mid-November, after which they will be taking some much-needed family time," a royal source told the outlet. Meghan also reportedly wants to make sure Archie grows up learning about his American background.
The break is certainly much-needed, as the royal couple has been opening up recently about the unfair treatment they have endured from the British press, and specifically the targeting of Meghan. Earlier this month, Harry wrote about the tabloids' "ruthless campaign" against his wife that "escalated over the past year, throughout her pregnancy and while raising our newborn son." Harry also announced that they would be suing the publisher of the Daily Mail after the outlet published a private letter Meghan wrote to her estranged father.
Meghan also shared her struggles in a new documentary, Harry & Meghan: An African Journey, that followed the couple's recent tour. "Any woman, especially when they're pregnant, you're really vulnerable, and so that was made really challenging," Meghan told reporter Tom Bradby. "And then when you have a newborn, you know. And especially as a woman, it's a lot. So, you add this on top of just trying to be a new mom or trying to be a newlywed."
Here's hoping Harry and Meghan can get some true downtime during the holidays, perhaps doing something incredibly boring like us non-royals, like eat too much pie and fall asleep, bloated, while watching a Friends marathon!