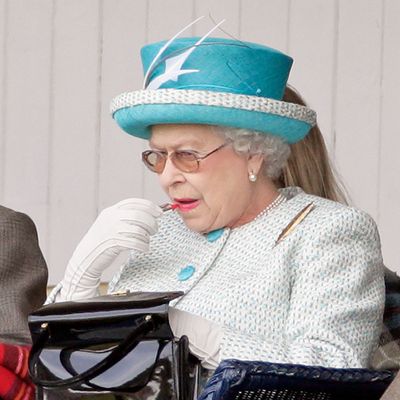 Future beauty vlogger.
Photo: Indigo/Getty Images
While I have no idea what Queen Elizabeth does all day, I imagine she must have a decent amount of free time on her hands. Hell, I'll go one step further: I assume she sometimes even gets bored. To assuage some of this ennui, I have a recommendation for the 93-year-old matriarch: Maybe consider moonlighting as a beauty vlogger???
This recommendation is not as ludicrous as it may seem. According to The Other Side of the Coin: The Queen, the Dresser, and the Wardrobe, a new book by the queen's "royal dresser" of 25 years, Andrea Kelly, the royal matriarch does her own makeup every single day of the year, except on Christmas Day. Once more, for emphasis: The queen, who could probably order someone to hand-feed her smoked salmon and truffles or to flush the toilet for her, puts on her own lipstick and blush every day. To preface this detail in the book, Kelly writes, "You might be surprised." Bloody hell I am!!!
Which is exactly why I think the queen should consider entering the beauty-vlogging market. First of all, why the hell not; second of all, she certainly has quite a bit of experience. (Not to get held up on the math, but assuming that the queen started doing her own makeup when she was 16, and she's now 93, and she's been doing her makeup nearly every single day of her life … well, that's a lot of days.)
Also, per the queen's biographer, the matriarch is already a devotee of two beauty brands in particular: Clarins and Elizabeth Arden — hello, partnerships!
And hell, if John Mayer can be a beauty vlogger, so can the queen.