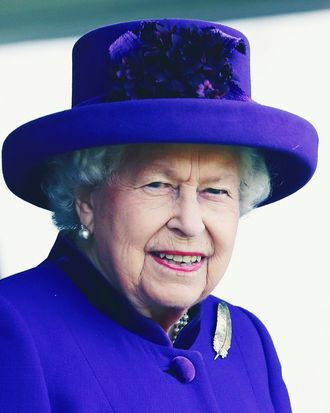 Queen Elizabeth.
Photo: Chris Jackson/Getty Images
It would be almost impossible, I think, to be the queen and not walk around wielding that title like a social cudgel. There's the whole having-your-face-on-currency thing, and being constantly surrounded by legions of security guards, of course, but even on a smaller, interpersonal level, you probably couldn't help but whip it out. An acquaintance telling you a long, involved story about their kids' tap-dancing classes? "I'm gonna stop you right there. I don't care, and I'm actually the queen, so …" A co-worker sending you a link to a long-form article you're never going to read? "Can you just summarize this for me? I'm the queen." Or, say you're Queen Elizabeth, and you're at a party with Sir Elton John, and your nephew, Viscount Linley, son of your sister, Princess Margaret, isn't going to check on his sister, Lady Sarah Armstrong-Jones, even though you've already asked him several times. According to Sir Elton John's new memoir, you grab your misbehaving nephew, and gently slap his face while reminding him who's in charge around here. Per the Sunday Times:
In his memoir, Me, Sir Elton writes: "When he [Linley] repeatedly tried to fob her off, the Queen lightly slapped him across the face, saying 'Don't' — slap — 'argue' — slap — 'with' — slap — 'me' — slap — 'I' — slap — 'am' — slap — 'THE QUEEN!'"
It is unclear when exactly this exchange took place — presumably when the Viscount, who is now 57, was a boy (although I do love picturing the queen playfully slapping an adult man and shouting, "I am the queen!") John writes that the queen caught him watching the scene, winked at him, and then walked away. "I know the Queen's public image isn't exactly one of wild frivolity, but … in private she could be hilarious," he says.
In the memoir, John also writes about his close relationship with Princess Diana, detailing one dinner party he and his now-husband David Furnish hosted for her, Richard Gere, and Sylvester Stallone, shortly after Diana had separated from Prince Charles. According to the pop star, "Richard Gere and Diana seemed very taken with each other," to the great dismay of Stallone, who John thought, "may have turned up to the party with the express intention of picking Diana up."
If only the queen had been there, she could have cleared things up by lightly slapping Stallone on the face and saying, "I. Am. The. Queen!" Actually that wouldn't have cleared anything up, but it would have been pretty funny.