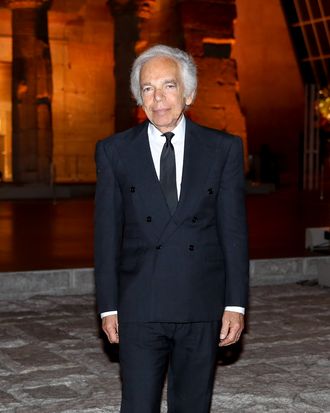 Photo: David X Prutting/BFA.com
There was Martha (Stewart). There was Bruce (Springsteen). There was Tory (Burch). There was Karlie (Kloss). They were all crowded into the Met last night to celebrate one man: Ralph, a man for whom no parenthetical is required.
The occasion was the premiere of Very Ralph, the new HBO documentary about Ralph Lauren, one of the godfathers of American style. He is "one of the great icons of our time," said Susan Lacy, the film's director, before the screening. Even so, she added, "Knowing you, I bet you're as nervous tonight as I am." (The promise of a Polo Bar–catered dinner at the Temple of Dendur afterward, with massive towers of lobster and oysters, and pigs-in-blankets and burgers circulating, waited as a reward.)
But Lauren hardly had reason for nerves. Very Ralph is a loving tribute to the man who has represented America, cowboy boots and all, to the world for more than 50 years. He's designed for, and incarnated, archetypes no one had previously thought to mix together: English gentleman, American ranch-hand, blue-jean baby, would-be Olympian. (Not to mention actual Olympians: Lauren has designed the uniforms for Team USA.) Maybe everyone has a favorite. "I like him as a cowboy," the late Karl Lagerfeld says onscreen. "For me, it would be ridiculous. For him, not."
Take a look at more more of the evening's guests, below.