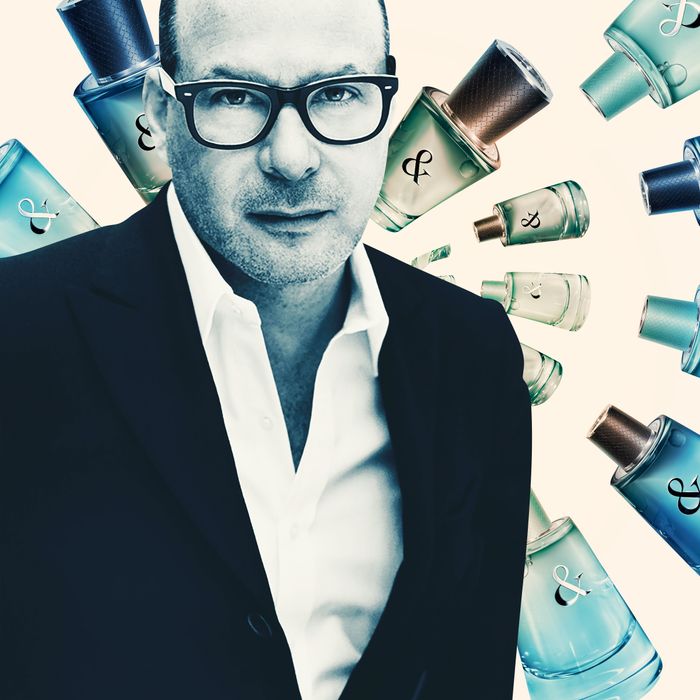 Photo: Courtesy of Tiffany & Co.
Scientific studies confirm that, of all the senses, smell offers the best recall. In Scent Memories, the Cut asks people about the scents they associate with different times in their lives.
Next up is Reed Krakoff, designer and chief artistic officer of Tiffany & Co. Today, the iconic brand launched two new fragrances: Tiffany & Love for Him and Tiffany & Love for Her, complementary scents that are a tribute to today's modern love in its different forms. The launch marks the brand's first step into dual fragrances and comes with a campaign shot by photographer Cass Bird, and a video scored by Mark Ronson featuring King Princess and a Turtles cover. While each scent each has its own vibe, (For Him is more masculine and citrus-y, For Her, more feminine and floral) both are united with a common, woody note, the blue sequoia. We caught up with the designer to talk sheets, figs, and scents that help you get work done.
My first scent memory is: Cut grass and old books.
The scent that inspires me when I'm designing is: Vetiver. It's funny, I'm very narrow on what I like. If I'm wearing any scent at all, it's always that. It's something that's refined and has a natural kind of sensibility to it, but it's still complex.
Masculinity and femininity smell like: I don't think of a specific person when I design anything; I think more of an attitude and sensibility. Femininity and masculinity mean different things to different people, so these fragrances are more of a broad suggestion. It's so personal, fragrance. People have different interpretations, even of the same notes.
Modern love smells like: Similarly, a personal thing; a more intimate thing. I don't really have a scent for it because I don't really wear fragrance. I don't wear any jewelry or anything, nothing. Most people I know who work in design don't. It's a clean palette. I have a uniform, I wear the same thing every day. You can't wear the same thing four days in a row, because then people just think you don't change. But five days in a row; then they know it's a uniform. Five days, you know it's purposeful. I literally have 30 of the same shirt, two different ones. Twenty pairs of jeans. For 25 years I've had the same uniform. It's very liberating, once you do it.
Happiness smells: Effervescent and clean. To me, it's always an outdoor thing. Maybe because growing up, I was outdoors a lot. But it's always this sunny cut grass, salt air, dry effervescent warmth. A spring day kind of feeling, and the smells of the earth. Nothing too sweet, nothing too heavy, nothing too citrus-y, and nothing too formal.
Success smells like: Something calm, like a sense of calm accomplishment.
My work space smells like: Occasionally candles, but they're always white fig, freesia, or cut grass. They help keep you focused on what you're doing.
Monday morning smells like: Clean sheets. Like clean, crisp linen.
If I could have one smell on your hands forever, it would be: My wife. What else would it be? Chocolate? [laughs] Some people would say that, right?
If you buy something through our links, New York may earn an affiliate commission.