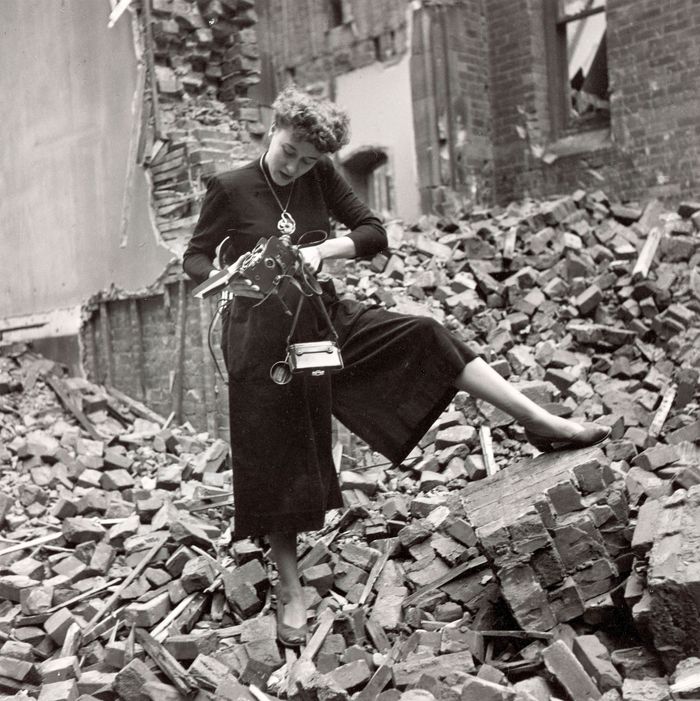 Photo: George Cardoza, © LIFE Picture Collection, Meredith Corporation
If you see just one arty thing this fall —well, hurry up! This exhibit at the New-York Historical Society, with photographs by six female Life photographers, is about to close this Sunday (October 6), and it's my favorite arty thing in a long time. The photos are so enthralling that I wish the whole show were three times as big. If you're thinking, Female photographers? Aren't they so much better than the boy ones? It seems unfair to give them all this attention, the men might feel bad, oh well, too bad!
The photographers — Margaret Bourke-White, Hansel Mieth, Marie Hansen, Martha Holmes, Nina Leen, and Lisa Larsen — each get a section of wall, showcasing one of their photo essays in the magazine from the 1930s to the 1970s, beginning with Bourke-White's "Franklin Roosevelt's Wild West," about laborers partying hard while building a dam in Montana. Here are some highlights from the exhibit.
The "American Woman's Dilemma" is a stinging 1947 photo essay by Nina Leen that shows women juggling the demands of work and motherhood. I'll be thinking about this image of a single working woman eating a sandwich while reading a book for a long time.
The most compelling photos in the room are the portraits of the photographers themselves. There's Margaret Bourke-White bundled up in thick snow gear, literally going to war, covering World War II. And Martha Holmes wearing billowy culottes as she props herself on rocky debris, preparing for a shot. The culottes!
Holmes took this electric photo of the jazz singer Billy Eckstine hugging a white woman in 1950, which at the time spurred a load of racist hate mail to Eckstine and the magazine. At the exhibit, you can see the other shots from that roll of film as the scene plays out in Holmes's lens. For a moment, you're there too.
This is another one from the "Dilemma" story. In the magazine spread, there's a timeline to the right with housewife Marjorie McWeeney's daily schedule. At 8:00 a.m.: HUSBAND JOHN TO WORK. WASH DISHES. CLEAN DOWNSTAIRS. CALL GROCER'S. This photo shows Marjorie in a Bloomingdale's, posing with a week's worth of chores: "35 beds to make, 750 items of glass and china [to wash], 400 silverware to wash, 175 pounds of food to prepare, 250 pieces of laundry to handle." Marjorie, bless her, grins.
Marie Hansen's 1942 photos of "The WAACs" (The Women's Army Corps) teach a history lesson I'm embarrassed that I've only just learned. During World War II, over 150,000 women enlisted to take on the duties that men deployed in combat left behind. Hansen's photos range from cute — the recruits getting their hair cut — to more disturbing: a crowd of WAACs wearing gas masks.
I'm really pushing hard for everyone I know and love to see this exhibit, so I will add that on the same floor of the museum, there's an ongoing exhibit of Tiffany lamps. It surprised me how much I loved that too — it's interactive, interesting, and lampy. Afterward, walk through Central Park, take a nap on a patch of grass, and then get a Martini at Bemelmans when the piano guy shows up at 5:30 p.m. Boom. You did it. The perfect New York afternoon.
"LIFE: Six Women Photographers" is at the New-York Historical Society until Sunday, October 6. Pro tip: Admission is pay-as-you-wish from 6 to 8 p.m. on Friday.