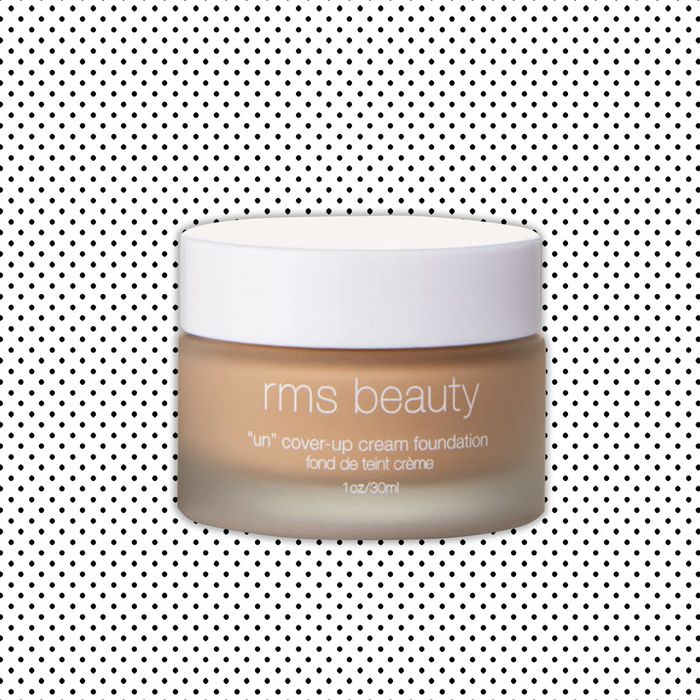 Photo: Courtesy of the Retailer
I'm trying to be better. I cut my screen time by 20 percent, I've developed empathy for subway pole leaners, and I've gotten over my hatred of mushrooms. Plus, I've finally found a "natural" foundation that I actually like.
As a beauty editor, one of the biggest questions I get from strangers and friends is, "What clean foundation do you like?" There's a real market for foundation which can make you look more polished and doesn't contain synthetic preservatives, synthetic vitamins, and genetically modified ingredients, but up until now, I haven't been able to point people in the right direction. Luckily, Rose-Marie Swift has changed all that. Swift is the pioneer of clean beauty who created RMS, the line known for giving J.Crew models their gleaming cheekbones (using raw, food-grade, organic ingredients). She's also one of Gisele Bündchen and Miranda Kerr's favorite makeup artists, and now, she's created a really great foundation.
Thicker than her much-loved concealer (the Un Cover-Up), the "Un" Cover-Up Cream Foundation looks like glowy, beautiful skin. You might initially be freaked out by its thickness, since it comes in a creamy, rich paste. But it blends out easily into the skin, becoming sheer without accentuating bumpy texture or pores.
A tiny bit, buffed in with a brush, can easily covers up any pesky acne scars on my cheeks. It's light that I can dab it on with my fingers to brighten up my dark eye circles. A few dots evens out my skin tone beautifully, and when I do a makeup check in direct sunlight, it doesn't look chalky or streaky, just dewy and bright.
One of my biggest complaints about the old UnCover-Up is that it wouldn't last. I would look great at home and an hour later, my under-eye circles would peep out and remind people that I had a bad night's sleep. I wouldn't say that the foundation is incredibly long-lasting (or that I look as air-brushed as I do with my favorite Armani Beauty Luminous Silk), but I've found that it has a wear time of about five or so hours. It comes in 16 shades, so it's not the Fenty 40 but there is a decent representation of skin tones with more to come. And I'm not the only one who's a fan — the very picky clean-beauty community loves it, too.
If you buy something through our links, New York may earn an affiliate commission.