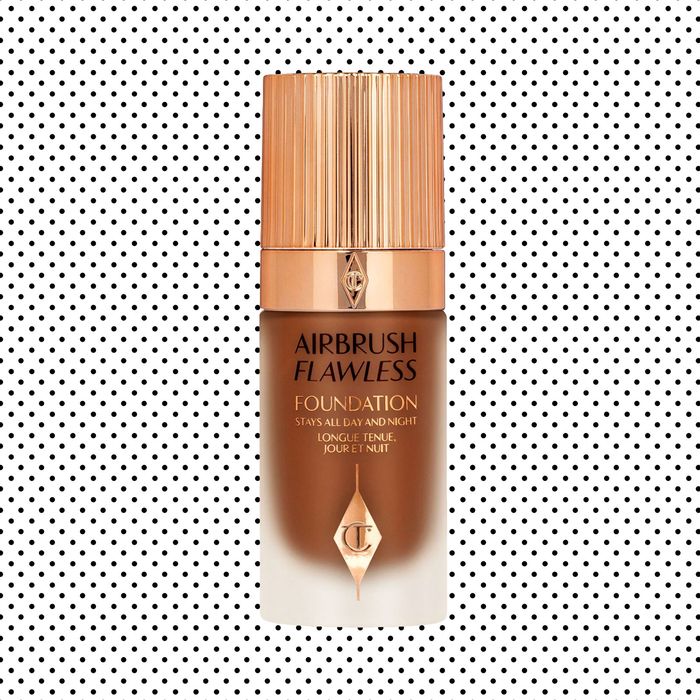 Charlotte Tilbury's new Airbrush Flawless Longwear Foundation has a lot of features. It has AirCool™! MossCellTec™! C.T. DEFENCE™! Magic REPLEXIUM®! And it allegedly BOOSTS HYDRATION by up to 216 percent. But the bottom line is that it's a full-coverage, matte foundation that's good enough for Lady Fame and Joan Collins, and it comes in 44 shades. Several New York Magazine staffers took all those fancy features for a test run. Here are their thoughts.
Erica Smith, Beauty Writer
I've disclosed it once, I'll disclose it again: I still don't wear foundation, so trying a full-coverage matte one was a journey. A professional make-up artist matched me to a shade called 9 Cool and applied it to my face, and the only way I could describe the result was "a member of a wedding party about to take a bunch of pictures outside." Which is great if that's what you're going for! If you want airbrushed, this will get you airbrushed. It has a refreshing cooling effect and a skin-care-like scent. And when it came time to remove my makeup, there was a lot left on my face, leading me to believe this really "stays all day and night" as the bottle proclaims.
I later tried a more minimal application (pictured) which felt a little more wearable, but as a foundation-phobe who doesn't really like being matte, this was still a bit much for me. If I had to wear a foundation, I'd probably end up going with something that's already sheer and more glowy, like the Armani Luminous Silk one we tried.
Jane Larkworthy, Beauty-Editor-at-Large
Charlotte Tilbury likes to use the word "magic" in her products (Magic Cream, Magic Vanish, Magic Away). I'm so stunned by how great this foundation makes my skin look, I feel like not calling it "magic" is a missed opportunity.
In any event, my shade, Neutral 3, blends kind of perfectly into my skin while covering its flaws in a veil of youth. Its ability to even out my tone, dispel all red blotches, diminish dark spots and make me look less tired is pretty darn impressive. The amount of foundation that travels to the insides of my eyeglass frames proves just how opaque this stuff is, but I just carry an extra chamois in my glass case.
The only bummer is that it's not clean. I've been trying to use only green and sustainable foundations, so I will probably save this for important days, like when I have presentations or grown-up things like that, because it definitely makes me feel more polished. Does it make my skin feel 216 percent more hydrated? No. Maybe somewhere around 50 percent … and for my non-millennial skin, any extra hydration is appreciated.
Indya Brown, Fashion Partnerships Editor
There are so many shades in this foundation range that it took me a while to nail down mine. Ultimately I chose 15 Neutral. Just one pump gave me enough for a full face with full coverage, and happily, I didn't have to reapply powder to touch up.
Usually I apply a million primers and smoothers before foundation, but I like that this one eliminates the need for prep because you get pretty smooth coverage already. It may be too heavy for everyday, but I can see myself using this when I need to look extra cherubic and glowing before big events.
Hunter Harris, Vulture Staff Writer
I've always had trouble matching a foundation to my skin tone, so when I find something good, I try to stick with it as long as possible. This Charlotte Tilbury foundation was a great color match (I used 9 Warm) and I've added it to my rotation.
It's definitely for fuller-coverage days. I tried using the minimal amount that I typically wear, but it looked better when I put a little more on. Still, it goes on light, and I only needed one pump of product. It really did keep my skin hydrated! Sometimes, because I exfoliate a lot, I get a few flakes mid-day, but that was never a problem with this foundation.
It stayed put during a random heatwave and didn't oxidize after a full day of wear. I used a foundation brush to pat it on and warmed up my forehead and jawline with a Fenty bronzer. The best part: I wore this stuff to a full day of work, to an event, and dinner after, and I only touched up my concealer. The friend I was eating with stopped me mid-bite to say: "Your skin is luminous." After eight hours of wear!
Sarah Spellings, Fashion Writer
I was matched to Shade 5 Cool, and I think it's a great match for me — it sounds so silly to say, but it's actually the color of my face. It goes on cooling, which is pleasant but doesn't last too long. I didn't notice any visible hydration benefits, but maybe those come later?
It's definitely noticeable that I'm wearing a full face of makeup — something I almost never do — but it blends in seamlessly and I think only I can tell the difference.
Kathleen Hou, Beauty Director
If you want your skin to have the perfection of an airbrushed doll, this is for you. This is a long wear, full-coverage matte foundation (I'm Shade 5 Warm) that makes your skin look like you're a fancy cyborg worthy of being sent out in Westworld. As my colleagues have noted, you need just one pump for your whole face, and it has a thick, paintlike texture. But it blended easily with a Beauty Blender, and buffed over some little zits and hyperpigmentation to make my skin look incredibly even, smooth, and less gray. Unlike some foundations which can make you look like plaster, the undertones and finish of this made me look more awake and well-rested. It didn't settle into any lines, and it lasted really well through a workout class, some fine misty rain drizzle, and six-plus hours of wear.
I wish I'd had this on-hand for the summer. Its long wear and perfecting abilities would make this an excellent foundation for Megyn Kelly or anyone who has to be on TV but doesn't want to look crazy in person. It also felt nice — my skin felt soft and not spackled. Do note you might have some difficulty color-matching because it takes a little for the foundation to settle (I kept thinking, This is too light, I think I have the wrong color) but go with your true color.
Nana Agyemang, Instagram Editor
The foundation melted onto my skin. At first it looked pretty light and didn't blend, but after letting it sit for five minutes it matched my skin tone really well. It doesn't oxidize. It's a stay-on-all-day foundation and I didn't have to do any touch-ups. However, I did notice that over time, certain areas appeared a tad gray (if I were to use it again I would apply color corrector under it). Overall, I feel beautiful and flawless in the foundation and it's going to be my next go-to.
Daise Bedolla, Social Editor
I'm usually a 4.25 ("light skin with peachy undertones") in my Armani Luminous Silk Foundation, but I'm a 3C ("for fair skin with cool undertones") in this one. Whereas my Armani foundation plays better with the peachiness of my skin, the Charlotte Tilbury canceled it out, completely matching my neck. I can't say that my face felt 216 percent more hydrated as the foundation claims, but it was comfortable on my skin and didn't budge or cake together, even though I didn't touch up or use a setting spray.
I looked in the mirror when I got home at 11 p.m. and still looked put-together — and visibly less exhausted after five hours of sleep the previous night. My face has been erring on the side of dryness as the season changes, and I'm excited to have this in my arsenal, but the real test will come when the temperatures truly take a dip and my skin descends into full-on desert territory.
If you buy something through our links, New York may earn an affiliate commission.