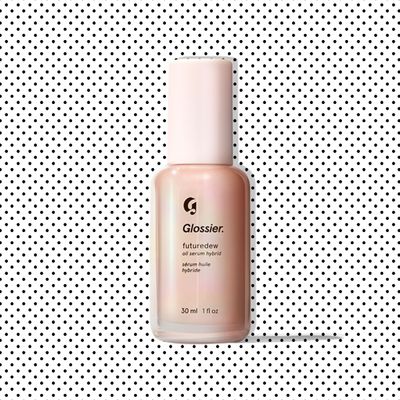 Everyone wants to look moist these days. Naturally, Glossier knows that and is capitalizing on it with its new Futuredew, an oil serum designed to give you the long-lasting version of the glowy effect you get after applying lots of toners, essences, and moisturizers. Emily Weiss calls the idea "aesthetic skin care," but it's essentially a two-in-one situation: a serum that's also a highlighter meant to last up to 12 hours. Here's what happened when several Cut staff members tried to look dewy for a prolonged period of time.
Aude White, Senior Communications Manager
I was prepared to write a review about how this product definitely doesn't work, because I put it on my face many days in a row and each time I felt like I just looked the same. However, I wore my dewy serum to dinner with a friend last night who exclaimed, "Your skin looks so good!! What did you do?" Thus I've revised my conclusion about this product: I have dew blindness, and it probably works.
Sarah Spellings, Fashion Writer
This product — a hybrid highlighter and serum — is classic Glossier. It's clearly formulated for people who don't wear a ton of makeup. I was confused by it at first. The label says to use it as the last step in your skin-care routine, but I couldn't decide whether to put it on before or after sunscreen. I tried it both ways and liked it better when I used it after sunscreen.
To be honest, I didn't notice any extra glow. I think the highlighter is superfluous. The serum, on the other hand, made my skin feel bouncy and soft. If it were just a serum, I would buy and use it every day! With a highlighter, it confuses me. Maybe others can see the glow, but it must be very low wattage.
Erica Smith, Beauty Writer
Futuredew refers to itself as an "oil serum hybrid," but it doesn't feel oily or serum-y at all. It's much stickier than both, like a melted-down, slightly tacky version of Glamglow Glowstarter. The instructions say to "apply two pumps all over face," but I couldn't bring myself to put something with this texture all over my face. It does make a good targeted highlighter, though.
One pump's worth went a long way on both my cheekbones. It instantly created a glowy, sun-on-your-face highlight without any shimmer, glitter or sparkle — or that much sun, even (it was pretty cloudy when I snapped this pic). I highly recommend this for selfie purposes, but I'm not sure I want to look this shiny in real life just sitting at my desk. The "damp" look lasted for most of the day, but that meant the kinda-sticky feeling stayed on my cheeks for most of the day, too. I'd definitely file this in my makeup bag along with my highlighters and glosses, just not next to my serums.
Diana Tsui, Senior Market Editor
I'm deeply skeptical of products that claim to do two things at once. Combination shampoo and conditioner? A disaster that leaves my hair both greasy and dry. So I was unsure about this stuff. It smelled pleasant and soothing — I'm a sucker for lavender. But the color gave me pause. It was iridescent, the same shade as early-aughts holographic pleather sandals. If ASMR slime were skin care, it would look something like this.
The formulation is nice and it sank into my skin, leaving it hydrated and plump. It did make for a good base for makeup. As far as its highlighting properties, I didn't really notice anything beyond a subtle shimmer that disappeared once I applied my foundation. If you're the no-makeup type, this might be the glow level you want, but I needed more. I wound up dotting my favorite highlighter on my cheeks to complement the serum. I'll probably finish the bottle — it was pleasant enough — but I consider my skepticism about the efficacy of two-for-one products justified.
Sangeeta Singh-Kurtz, Senior Writer
I applied this serum before bed. I expected it to have the texture and color (yellow or orange) of typical face oil, so I was confused when it came out as a sparkly beige oil. I slept with it that night and didn't break out, which is what I was afraid of, but I wouldn't recommend it for night: You don't need holographic sparkle when you're just sleeping.
That said, that sparkle works brilliantly when used under makeup. My skin looks very good with it on during the day — dewy rather than oily, and without the harsh shine that highlighter can sometimes give you. And it does last all day, as promised. I'm still skeptical of the idea of skin-care products doubling as makeup, though, especially if that means adding unnecessary ingredients.
If you buy something through our links, New York may earn an affiliate commission.