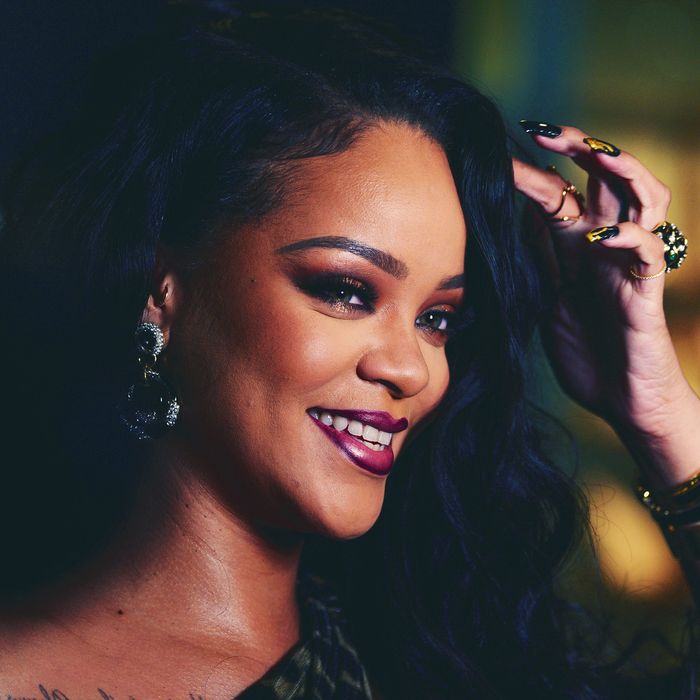 Photo: Roy Rochlin/Getty Images
The writer of Rihanna's most recent Vogue profile was criticized by what seemed like the entire internet last week for showing up to interview the singer unprepared after last-minute scheduling and admitting she was "winging it" in the opening paragraphs of the piece. And that unabashed honesty made the internet angry, claiming it would be very prepared to speak to RiRi herself.
The person whose opinion mattered the most didn't care, however. It seems Rihanna didn't mind author Abby Aguirre's approach, and she defended the writer at the Friday-night launch party for her eponymous coffee-table book at the Guggenheim.
"Wait, wait, what?" Rihanna said in a red-carpet interview with WWD. "No, no, no, no. That's gangster. For you to get a call the day before, being like, 'Hey, Rihanna's in L.A., you wanna do this?' And show up on the dime and write an incredible article that I'm really proud of and enjoyed reading? She's badass for that."
"If you don't have to prepare, girl, you're gangster," she added with a laugh. For her part, Rihanna is someone who has long embodied a sort of laissez-faire attitude toward life. Despite running multiple multimillion-dollar businesses, acting, and recording music (occasionally), she also takes the time to judge voguing competitions, smoke blunts, yell at her boyfriend by the pool, and leave fancy restaurants with glasses of wine in hand.