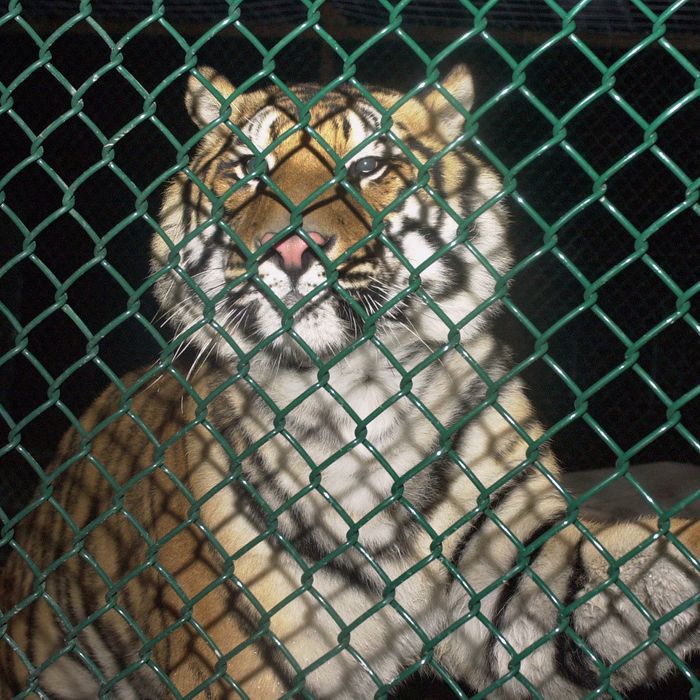 Ming.
Photo: New York Daily News Archive/NY Daily News via Getty Images
Ming, the tiger who was discovered in a Harlem apartment in 2003, recently died at the animal sanctuary in Ohio where he lived for the past 15 years, the New York Post reported. He was 19 years old.
The 450-pound tiger was buried at the Hartsdale pet cemetery in upstate New York, according to the the cemetery's vice president, Ed Martin III, who told The Post that the funeral was "a very small affair."
Ming was brought to Harlem in 2000, when a man named Antoine Yates, then a resident of the Drew Hamilton Houses in Harlem, purchased him from a wild animal dealer in Racine, Minnesota, in 2000. The tiger was just eight weeks old. Yates lived with Ming in his apartment for three years, feeding him chickens, livers, and bones from a nearby supermarket. He described Ming as "lovable" and "affectionate," and said the animal slept with him in his bed every night.
Then, in October 2003, Yates brought a street cat named Shadow back to the apartment. Ming attacked the cat, and when Yates tried to break them up, the tiger bit his leg. At the hospital, Yates claimed the wound was from a pit bull, but a neighbor tipped off NYPD about Ming. The Emergency Services Unit was sent to the apartment, tranquilized, and rescued the tiger. Ming was eventually sent to the sanctuary in Ohio, and Yates was eventually sent to jail over the incident, though for years he campaigned for Ming to be returned to him.
"I'm devastated about it," Yates told the Post when he heard about Ming's death.
"I've never had a chance to reunite with him so that's very disappointing, it's hard to swallow."
Ming's tombstone at Hartsdale features an engraved portrait of the tiger, and, under the words "MING TIGER of HARLEM", a short summary of his life.
"Legendary NYC tiger, raised in apartment 5E in the Drew Hamilton Houses at 141st and Adam Clayton Powell Jr. Blvd," the tombstone reads. It says that, after his rescue, Ming lived out his remaining years "in comfort and peace", and that he was "loved by many."
RIP Ming, a Harlem icon.