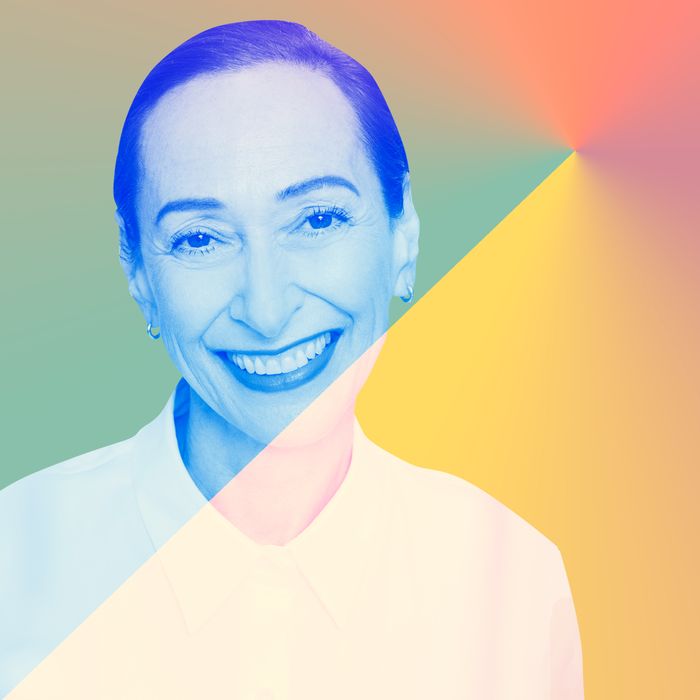 In the '90s, Rose-Marie Swift was a successful makeup artist, flying all over the world to work with photographers like of Mario Sorrenti and Mert and Marcus on models like Gisele and Karolina Kurkova. But she never took the gig too seriously.
"It was just me making up whatever came up," laughs the founder of RMS beauty, arguably one of the first, if not the first, clean makeup lines. "It was something that came naturally to me, but I knew this wasn't my direction. I saved my money like crazy because I always knew there was something else."
Did she know that "something else" would be RMS Beauty? Hell, no. It all started with a website. And that came to be after a long bout (we're talking decades) of ill health, which included candida, insomnia, and anxiety attacks. She finally had some intense blood work done, and when the technician handed her the results back, the high levels of certain chemicals prompted the technician to ask her if she worked in the beauty industry. She dove deep into cosmetic ingredients, then built a website where she could vent her findings. She named it beautytruth.com.
"I wrote it because I got so pissed off at the industry," explains Swift, who's never been one to hold back. "I had more enthusiasm for writing that website and exposing what was going on than I did for doing makeup."
The site struck a nerve; it got tons of press. She took a step back to reassess what her followers might want: clean makeup. So she teamed up with a chemist friend friend and, together, they started experimenting. Some of her first guinea pigs were Victoria's Secret models.
"I'd be on a catalogue shoot, and they wanted the models' faces to have that same kind of shine that their bodies had, but instead of using petroleum oil, I used jojoba. The girls raved about how soft their skin felt afterward, and they started spreading the word. Next thing I knew, I had a brand."
In 2009, RMS Beauty launched with five products, including Living Luminizer and "Un" Cover-up, which remain best sellers. Now, there are over 40 items in the line, but given the energy that seems to ooze from this 65-year-old's pores, she's just getting started.
"Anything going in the cleaner direction is a stride, but where do you draw the line?" asks Swift. "The term clean is very arbitrary. One person's clean is another's not quite clean enough."
Swift spoke with the Cut about the clean brands she admires, her weakness for cheese, and why coconut oil is misunderstood.
What's your definition of beauty?
Beauty to me is truth.
What do you think when you hear the term "clean beauty"?
Convenient marketing. What is the defining factor and by whose definition?
Where, if anywhere, in your beauty (or life) routine are you not quite that "clean," "green" or "sustainable"?
My mascara. I have challenged eyelashes and I use Cle De Peau as it holds up my lashes for the entire day.
What is your morning skin-care routine?
I am extremely simple when it comes to a skincare routine, and have always been. I wash my face with a facecloth and water, apply RMS beauty oil on my damp skin, and follow with a few other RMS products I am testing, and that's it.
What's the last beauty product you use every night?
My RMS beauty Coconut Cream as it takes off everything, cleanses, and moisturizes. Then I brush my teeth with Revitin Prebiotic Toothpaste.
Who makes the best eye cream?
No such thing as the best! But my rep gave me some Susanne Kaufmann Day Cream recently and I've taken it with me on planes and stuff, and it's been kind of nice. Also, I've always liked Miranda Kerr's Kora Organics Body Oil.
What aspect of your beauty routine tends to be neglected?
The energy to actually do it.
What, if anything, is usually on your lips?
Nothing, or my RMS beauty Wild With Desire Lipstick in RMS red.
What makeup item would you never skip?
My brows need definition, so my powdered brow shadow is the No. 1 thing I always apply.
Fragrance of choice:
I don't wear any now. However, I am working on one that I am very excited about.
What discontinued product do you mourn?
Youth. Eventually, all of it gets discontinued.
What beauty product still needs to be invented?
Eternal youth.
Who else do you think is doing it right in the Clean space?
The Food Babe! She was slandering McDonald's and Subway and got them to take the acrylomide out of their buns. She's a heavy hitter. She's my little hero. Also, May Lindstrom. She is really on the ball.
What was your first beauty product obsession?
Max Factor cake eyeliner. This was the first beauty product that I ever wore. It was in the '70s and I was 14. I thought I was so cool with my eyeliner.
Who makes your eyeglass frames?
Derek Lam.
How do you like your bed?
Firm and organic (with no fire retardants whatsoever). Yes, your mattress is likely loaded with fire retardants. Take heed as fire retardants contain hazardous chemicals.
What is your classic daily uniform?
AG black jeans and Cuyana tops.
What shoes are usually on your feet?
Havaianas flats. I love them. The little rubber ones feel really good on my feet. Also, flats from Gina and Hotter. People always ask me where I got them. And for sparkles, I have a pair of Louboutin flats. That's my fancy shoe.
Any hidden or secret talent or skill you possess?
I am also an astrologer as well as a seamstress. I was taught classic sewing when I was 8 years old (bound buttonholes, invisible zippers, hems, you name it). My mother was a designer and I helped her sew. I never told too many people because the ones I did would bring me their clothing to repair. It's really hard for me to look at clothing nowadays, because so much of it looks so disposable.
Are you a knee-jerk reactor to bad news (like an annoying email), or can you step back and take a breath?
I react … and sometimes overreact.
What would the name of your autobiography be?
The Bullshit of Beauty.
Who would star as you in the film adaptation?
Anyone feisty.
Favorite smell?
Burning wood.
Least favorite smell?
Cat urine.
What do you most often disagree with others about?
That's a loaded question.
What can't you leave alone?
My social media.
What are you usually sipping from during the day?
The little antique teacup my sister bought me when I moved into my new house, with Earl Grey tea and honey or green tea. Organic, of course.
What calms you down?
Being alone.
Favorite type of cheese:
Soft cheeses, like brie and camembert.
Comfort food:
Crackers. Simple Mills is my newest favorite.
Most impressive dish you make:
Many. My mother taught me how to cook from an early age. My mother is German so I cook almost every kind of German food, literally.
What food would you never eat?
I haven't eaten beef, pork, or lamb in over 35 years. Turkey, maybe on a holiday. Fish very rarely as it is becoming scary now. Most of it is farmed and full of pollution and heavy metals.
What do you foresee as the top beauty trends for 2020?
That's hard to say because it looks like anything that is "entertainment" is getting the spotlight. Packaging, fake claims, plagiarism, celebrity brands … And of course, the shining star of the moment, clean beauty.
What product in your domain is misunderstood and should be a best seller?
RMS Coconut Cream. Not all coconut oil clogs pores. If it did, my line wouldn't be around.
What product is currently your favorite (understanding that this could change all the time)?
My RMS Beauty Oil. It is a pure product with healing ingredients and adaptogenic herbs that balances the skin. The ingredients come from nature in their very purest form rather than synthetic chemical ingredients from a lab.
If you won the Power Ball tomorrow, what are the first five things you would do? (after, of course, donating the majority of it to your top charities…)
I would love to try and change the world by cleaning up the air, the water, the food, the environment, and add logic to the mix.
Not to get too philosophical, but … what do you want?
I want a healthy world. Simple as that.