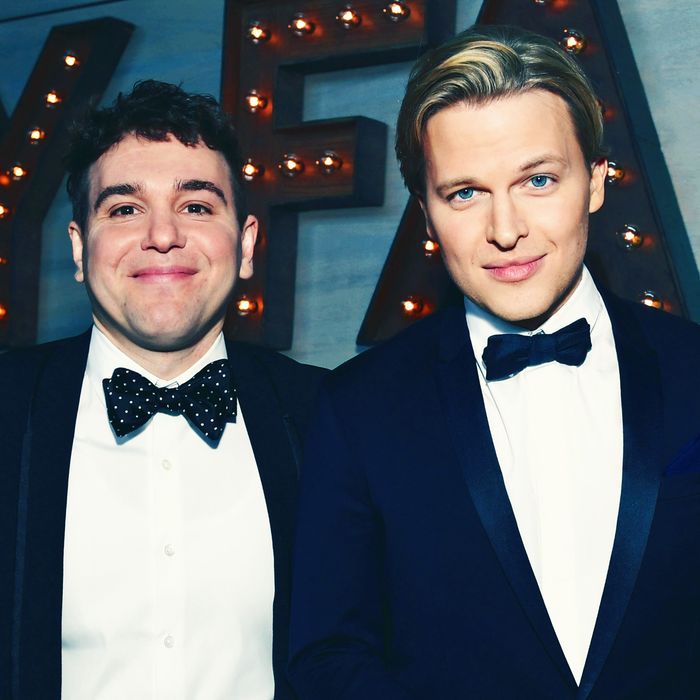 Jon Lovett and Ronan Farrow.
Photo: Emma McIntyre /VF19/WireImage
Pulitzer Prize–winning journalist Ronan Farrow is officially engaged to his long-term partner, Pod Save America host and former Barack Obama speechwriter Jon Lovett. In his new book, Catch and Kill, Farrow quietly divulges that he proposed to Lovett while he was reporting the book, which he did in the most writerly way possible: by hiding the proposal in a draft of Catch and Kill.
In the book, Farrow describes a scene between himself and Lovett at his Los Angeles home, where Lovett was comforting him after a particularly infuriating call with embattled NBC executive Noah Oppenheim. "He hugged me around the middle like a kid hugging a stuffed animal," Farrow writes of Lovett, who had listened to the call in the background. "It had been a long year, for me and for us, but we hung in there." Then Ronan describes how he decided to pop the question:
"Later, when I decided some of that reporting would make its way into a book, I'd send him a draft, and put in a question, right on this page: "Marriage?" On the moon or even here on earth. He read the draft, and found the proposal here, and said, 'Sure.'"
As Farrow writes earlier in the book, he and Lovett — who have been romantically linked since 2011 — have long had a running joke about getting married on the moon, as Lovett's mother made it clear to them that she "wanted grandchildren, and not in the age of lunar bases." The proposal, if you put the infuriating NBC reporting aside, is quite sweet. I'm just stuck on one thing: Sure!?!?