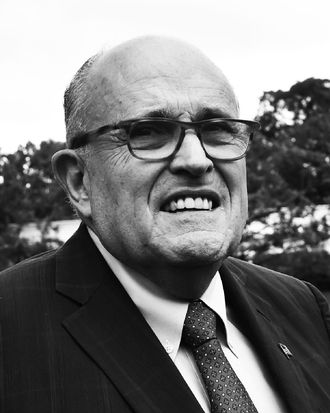 Rudy Giuliani.
Photo: NICHOLAS KAMM/AFP/Getty Images
Last time we checked in on Rudy Giuliani, former New York City mayor and current personal lawyer to President Trump, he was busy publicly melting down on national television. In chaotic appearances on Fox News and CNN, the 75-year-old shouted unintelligibly, covered his eyes, and pointed to the size-86 text on his iPad in an attempt to refute an anonymous whistle-blower's claims that in a July 25 phone call with Ukrainian president Volodymyr Zelensky, President Trump tried to pressure Zelensky into investigating Joe Biden and his son, Hunter, ahead of next year's presidential election.
How has he been doing since then? Have the two rabid subway rats whose job it is to turn the wheels of Giuliani's mind calmed down enough for him to make it a week without a significant public blunder?
Alas, they have not.
According to a report published by NBC News on Friday, Giuliani accidentally butt-dialed and left voicemails for NBC reporter Rich Shapiro not once, but twice.
The first call happened at 3:37 p.m. on Saturday, September 28. Giuliani, it seems unknowingly and accidentally, called Shapiro, and when the reporter didn't pick up, the call went to voicemail, and recorded a conversation Giuliani was in the middle of talking about the Bidens, and what he felt were unfair attacks being made against him and the president.
Shapiro writes that the contents of the voicemail are largely the same as the "unfounded allegations he has been making on cable news and in interviews with print reporters," including claims that Joe Biden stopped an investigation into a Ukrainian gas company because his son, Hunter, was on the board, and that Hunter used his connection to his father to shore up money from Chinese investors.
"They don't want to investigate because he's protected, so we gotta force them to do it," he says near the end of the recording.
In the second call, made on Wednesday, October 16, at 11:07 p.m. (again, the call was not picked up, again it went to voicemail and recorded Giuliani's conversation) Giuliani and another unknown man can be heard discussing dealings in Bahrain and Turkey.
At one point, Giuliani asks the man if "Robert" is around. The man answers that he's in Turkey, and Giuliani replies, "The problem is we need some money." Nine seconds of silence, then he adds, "We need a few hundred thousand."
(It's unclear what they're talking about, but for the record, same.)
What a gift to get a glimpse of a true legal mastermind at work.