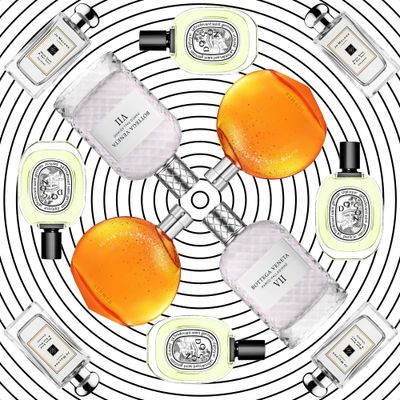 Photo: Courtesy of the Retailers
I've recently been a little salty, and I think I smell all the better for it. My saltiness is partially powered by the small feeling of rage I get when someone views my Instagram story but doesn't reply to my text — but also thanks to a new crop of salt-scented perfumes.
Much like the taste of umami, the smell of salt is hard to describe. Does it smell the opposite of sweet? Does it smell like sweat? If you ask those in the perfume industry, saltiness isn't so much a scent as a feeling. Celine Roux, global director of fragrance at Jo Malone London, says the element of salt in a scent adds freshness, texture, and a mineral quality. Eduardo Valadez, marketing director of Diptyque, says salty scents have a "marine" element to them.
In non–perfume speak, salty scents smell a little savory, I think, sort of like your contact-lens saline solution or the lid of a bone-broth container. If a typical sweet celebrity fragrance smells like Froot Loops, a savory scent smells like a sea breeze. You can almost taste the salinity on your tongue.
But for me, at least, the best part of salty scents is layering them with other fragrances. I tend to gravitate toward white florals and musky perfumes, which gain more depth when I add a salty element. It's like I smell richer and more human — after all, our skin always naturally has a hint of salt thanks to sweat. I smell something found in the real world, rather than an explosion at a Mars candy lab.
If you want to try smelling like a glamorous merman or mermaid, here are some of the best salty scents.
The Classic Beachy One
Like going from the beach straight to dinner. It has notes of coconutty sunscreen but also hints of your hair tangled by salty winds and sand stuck to the back of your leg.
The One That Smells Like Rachel
There is a secret online fan base for this perfume, which was created by Jennifer Aniston. I know, I know — but it's actually good (and 500 Amazon reviews agree with me). It definitely smells like sunscreen but with a nice whiff of sweet citrus, like being fresh out of the shower at an incredible beach house. A reviewer on Amazon described it as "humbling and exhilarating," sort of like Aniston herself.
The Nancy Meyers One
If you quit your job to write romance novels in a cute New England cottage somewhere, this is what your cable-knit sweater would smell like. Meant to recall the smell of polished driftwood and sea winds, it's one of the brand's best sellers and makes a great layering base for other scents.
The One for People Who Love Salted Caramel
Out of all the beach scents in this roundup, this is the saltiest. If your favorite desserts need to be both sweet and salty, try this. It also comes in a shower gel.
The One People Can't Stop Asking About
One of my friends uses this perfume, and he gets stopped on the street all the time about what he's wearing. He smells great, even on the subway. This is a classic tuberose scent but with a subtle note of saltiness that won't remind you of Grandma with the Fracas.
The Unique One
Once when I was on vacation in Italy, I had a salted orange fizzy water at an outdoor café and my mind was blown. It was sparkly, effervescent, sweet, and a little weird but delicious — just like this fragrance. With notes of salted caramel and orange, it's one of the rare food-related scents that don't come off as overly sweet. It was created by the brand's original nose, Jean-Claude Ellena.
The One for People Who Hate Sand
Last, we have a fragrance that doesn't smell like sunscreen or coconut; it doesn't even smell like the beach. Instead, you get crisp air with lilies and a touch of lavender — like taking a walk in a garden on a bright, sunny morning, eating an Asiago croissant.
If you buy something through our links, New York may earn an affiliate commission.