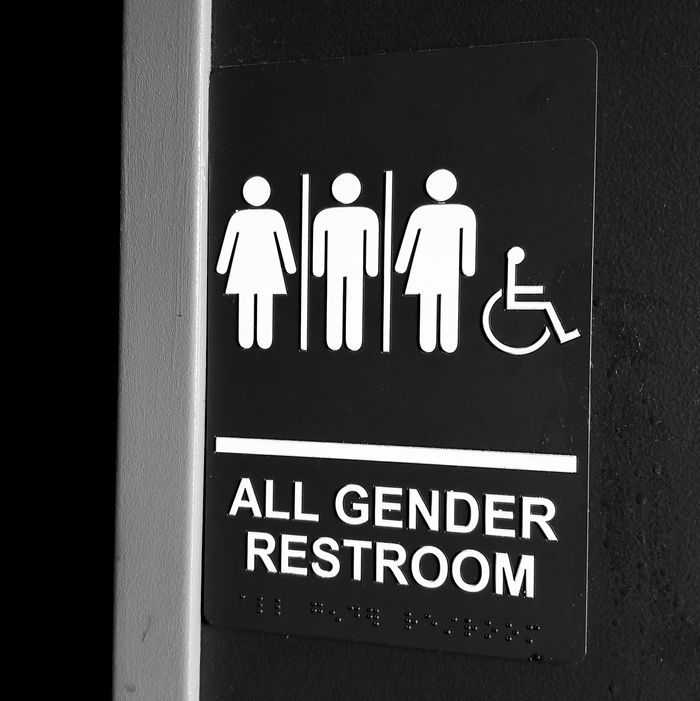 Gender-neutral bathroom.
Photo: Smith Collection/Gado/Getty Images
After a federal court ruled last year that transgender students should be permitted to use the restroom corresponding with their gender identity, a Georgia school district updated its own bathroom policy to be more inclusive. This week, that same district announced that it would be reverting to its old policy, as students and employees are facing extreme hate and death threats.
In a statement released on Wednesday, Pickens County superintendent Carlton Wilson said that "many serious safety concerns" have recently arisen over the administration's trans-inclusive bathroom policy, citing death threats, harassment, and vandalism of school property. As a result, local Atlanta station WSB reports that the district is temporarily nixing the policy until the safety of its staff and students is no longer in jeopardy.
"The District understands and acknowledges that it has the responsibility to protect its staff and students," the statement continues. "However, the District has concerns that it may not be able to meet these recently increased demands."
The fury over the policy, which the administration implemented following the Adams v. School Board of St. Johns County School District ruling in 2018, isn't coming from afar. According to WXIA, some 600 people attended a school-board meeting this past Monday, where approximately 50 people "gave passionate speeches" on the subject. And in an interview with WSB, Wilson said that many of the threats had been made by parents.
"The way some called names has been embarrassing and disappointing to me, and that's hard to get over," Wilson said. "One of them said, 'You know, situations like this brings out crazy people from both sides, and sometimes people die.'"
The district, however, plans to readopt the progressive policy after consulting with law enforcement and "other safety professionals" about how to best protect those inside school buildings. In the meantime, trans students will follow the old district policy of using private, single-stall bathrooms that were once reserved for faculty members — an option that trans students feel is flawed.
"Me, personally, I didn't feel comfortable using the teacher's bathroom," Kino Stanfield, a former student at Pickens County High School, told WSB, noting that he was often late to class due to an inadequate number of stalls.